---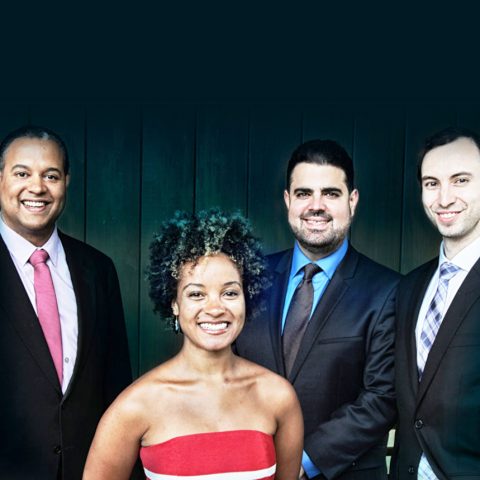 Artists
Harlem Quartet
The Harlem Quartet debuted in 2006 at Carnegie Hall and has since performed a unique mix of classical and jazz music worldwide.
---
Praised for its "panache" by The New York Times, the Harlem Quartet is "bringing a new attitude to classical music, one that is fresh, bracing and intelligent," says The Cincinnati Enquirer. The quartet's mission is to advance diversity in classical music, engaging young and new audiences through the discovery and presentation of varied repertoire that includes works by minority composers.
Since its public debut in 2006 at Carnegie Hall, the New York-based ensemble has performed throughout the U.S. as well as in France, the U.K., Belgium, Panama, and Canada. In May 2012 the Quartet spent two weeks on tour in South Africa, under the auspices of the U.S. State Department, performing concerts and participating in outreach activities.
In addition to performing on various chamber music series, the Quartet has worked with such distinguished performers as violinist Itzhak Perlman, cellist Carter Brey, clarinetist Paquito D'Rivera, and pianist Misha Dichter, with whom it made its Kennedy Center debut in February 2013. The Quartet has also collaborated with jazz legends Chick Corea and Gary Burton, whom they joined for a six-month Hot House Tour beginning at Tanglewood Music Festival in summer 2012 and recorded for the Concord Jazz label.
Each member of the Quartet is a seasoned solo artist, including appearances with the New York Philharmonic; Boston Pops; Cleveland Orchestra; and Atlanta, Baltimore, Detroit, National, New World, and Pittsburgh Symphonies. As an ensemble, they perform both in chamber-music settings and with orchestra, including the world premiere of West Side Story Concerto with Mei-Ann Chen and the Chicago Sinfonieta in June 2012. The Quartet reprised its performance in September 2012 with the Anchorage Symphony Orchestra under the direction of Randall Craig Fleischer, and in December 2012 with the Santa Fe Concert Association.
The Harlem Quartet has been featured on WNBC, CNN, the Today Show, WQXR-FM, and the News Hour with Jim Lehrer. In 2009 they performed for President Obama and First Lady Michelle Obama at the White House and appeared Christmas morning on NBC's Today Show. They made their European debut in October 2009, performing at the residence of the U.S. ambassador to the U.K., and returned to Europe as guest artists and faculty members of the Musica Mundi International Festival in Belgium. In early 2011 they were featured guest artists at the Panama Jazz Festival in Panama City. In June 2012 they made their Montreal Jazz Festival debut.
Their recordings include Take the "A" Train, featuring the string quartet version of the Billy Strayhorn standard (White Pine, 2007); Walter Piston String Quartets Nos. 1, 3 & 5 (Naxos, 2010); and Eternal Evolution (Navona, 2011), a collaboration with pianist Awadagin Pratt showcasing works by American composer Judith Lang Zaimont.
The Harlem Quartet was founded in 2006 by The Sphinx Organization, a national nonprofit organization dedicated to building diversity in classical music and providing access to music education in underserved communities. The Quartet is managed by Sciolino Artist Management in New York City.
For more information visit harlemquartet.com