Store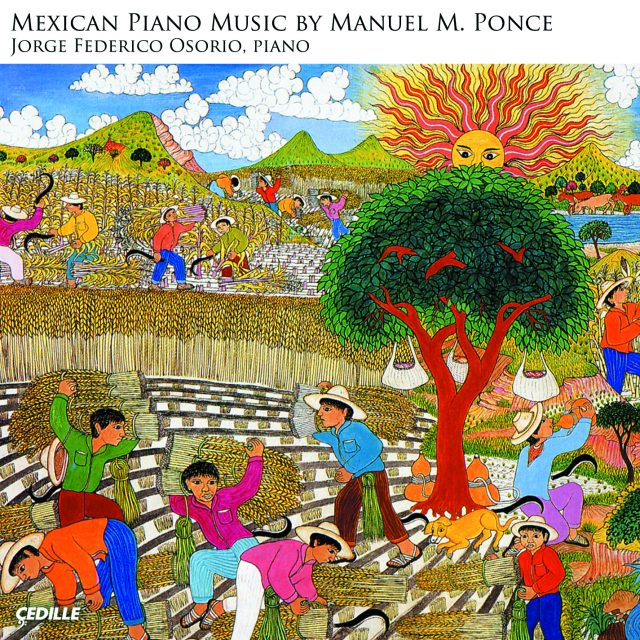 Store
Mexican Piano Music by Manuel M. Ponce
---
Celebrated Mexican-born pianist Jorge Federico Osorio showcases solo piano works by his countryman, Manuel Ponce (1882-1948), who revolutionized Mexican music by fusing indigenous native and Spanish sounds with European classical forms.
Osorio's persuasive performances show why Ponce's eloquent landmarks of Mexican Romanticism deserve to be as popular in the U.S. as they are in Latin America and Europe.
Preview Excerpts
Enjoy our recommended preview track excerpts below
MANUEL M. PONCE (1882-1948)
2
"La barca del marino...."
23
I. Allegretto mosso ma espressivo
Artists
1: Jorge Federico Osorio
What the Critics Are Saying
---
---
"Osorio plays all of these pieces masterfully, with virtuosity to spare and a natural expressiveness that never compromises the music's freshness and spontaneity. If I had to choose one highlight, it would probably be the Suite cubana, a marvelous exploration of Latino musical folklore cast as a triptych in the manner of Debussy's Images. But then, there are no dead spots, musically or interpretively, and the engineering offers the last word in sonic realism. In short, this is an absolutely wonderful disc by any measure."
Mexican Piano Music by Manuel M. Ponce
Notes by Ricardo Miranda
For most music lovers, the name Manuel Ponce is usually associated with guitar repertoire. The great Andres Segovia championed Ponce's music and established it as standard repertoire for guitarists. Yet Ponce wrote for the guitar almost entirely on demand; his favorite instrument had always been the piano. Trained in his hometown of Aguascalientes and during a one year residence in Mexico City, where he studied with Vicente Mañas, Ponce was a pianist through and through. In this sense, his first trip to Europe, in 1903, proved revealing. His original intention was to study composition in Italy, where he had a few lessons with Puccini's mentor, Cesare Dall'Olio. He abandoned this plan after a year, however, and went to Berlin to further his pianistic training. Ponce aimed to study with Martin Krause, the renowned disciple of Liszt. In order to gain access to his class, Ponce sought help from the young Edwin Fischer, then a leading pupil of Krause. Ponce managed a year in the master's studio before his meager resources ran out, forcing him to return to Mexico. Nevertheless, Ponce's playing had improved considerably, and his Berlin experience only strengthened his dedication and love for the piano.
It should come as no surprise that during the first years of his artistic career, piano and composition went hand in hand. Indeed, his crucial and decisive concert in Mexico City in 1912 featured the premiere of his Piano Concerto with the composer as soloist conducted by Julián Carrillo. On that occasion, which established Ponce as a major figure in Mexico's musical scene, he also premiered some of his solo pieces after Mexican folk themes, including his Tema variado mexicano and his first Rapsodia mexicana. Interestingly, he was appointed professor not of composition but of piano at Mexico's National Conservatoire. He maintained this position for several years and helped propel the careers of noteworthy Mexican pianists such as Joaquín Amparán and Esperanza Cruz. That Ponce never taught composition at either the Conservatoire or the National Music School might seem puzzling. But paradox and irony emerge often in Ponce's biography. Take, for example, the unfortunate circumstances of his American debut: he was scheduled to appear in New York's prestigious Aeolian Hall on March 27th, 1916. But Ponce's New York debut took an unfortunate turn when news broke on that same day of Pancho Villa's attack on the border town of Columbus, New Mexico. Who could blame New Yorkers for failing to attend or appreciate the performance of a pianist whose countrymen just invaded the United States? Ponce paid dearly for this unfortunate coincidence: his other U.S. engagements were all cancelled. He endured several days of economic and personal uncertainty before returning to Cuba, where he lived from 1915–1917, a political exile induced by the Mexican Revolution. Sadly, Ponce never returned to the United States, either as a composer or a pianist.
Ponce's acquaintance with the piano and its idiomatic possibilities are evident from his music. Pieces such as Legende or his Études demonstrate a composer absolutely at home in writing for the piano. The elegance and flair of such music reveal its author as an heir to the romantic piano tradition. Indeed, it is in Ponce's piano repertoire that Mexican Romanticism finds some of its most eloquent landmarks. In his piano etudes, some of which he wrote while studying in Berlin, technical demand goes hand in hand with lyrical inspiration. Even his Deux études pour piano, written in Paris in 1930 and dedicated to Arthur Rubinstein, while revealing Ponce's adoption of a modern harmonic language, nevertheless betray the technical prowess of a pianist immersed in the fin de siècle virtuoso tradition. Romanticism in Ponce's music is nowhere more evident than in Legende, a piece in which a single lyrical idea is constantly transformed, giving rise to an imaginative and expressive work. On the other hand, Ponce closely follows the Romantic ideal of finding what is most natural and unspoiled in folk music. His first arrangements of Mexican folk songs were published in 1911 and signaled the birth of Mexican Nationalism. Of that famous five song compilation, La barca del marino is performed on this program along with Cuiden su vida, one of Ponce's favorite Mexican songs. These are supplemented by Estrellita, Ponce's best known song, redolent of both his subtle lyrical inspiration and his assimilation of Mexican folk songs.
It was during his exile that Ponce became aware of and captivated by Cuban folk music. Particularly fond of the local danzón, he wrote a series of Cuban pieces in the same manner as his rhapsodies and ballades on Mexican themes. Foremost among these, Suite cubana is particularly striking for its harmonic and rhythmic sensuality. Not surprisingly, Cubans were very fond of this music. When Ponce premiered his Suite in Havana in November Mexican Piano Music by Manuel M. Ponce notes by Ricardo Miranda 6 7 1914, local critics were ecstatic. One wrote: "Ponce is a sublime and inspired composer. He has captured our ambience; he has enclosed our sky's clarity and beauty and has distilled our flowers' scent onto his music."
In addition to writing music based on folk songs and composing pieces of virtuoso character, Ponce followed other paths of the romantic style. In writing dances and album leafs, Ponce revealed himself as an intense and poignant artist. Trozos románticos (Romantic Sketches) is a fine example of his capacity for writing characteristic pieces, such as those of Schumann or Mendelssohn. Written between 1910 and 1911, Trozos are a series of 14 pieces, from which a selection is offered on this recording. These short, touching pieces combine melodic inspiration with a subtle harmonic palette. These same characteristics can be found in Ponce's mazurkas. For those unacquainted with 19th Century Mexican music, the writing of mazurkas by a Mexican composer may come as a surprise. However, the Polish dance first arrived in Mexico around 1850 and became a favorite of both public and composers — so popular that, outside of Poland, the Mexican repertoire may well hold the largest collection of them. Foremost among these are Ponce's, which he wrote between 1900 and 1917. Although some were lost during the Revolution, twenty Ponce mazurkas survive. (Ponce's collection stands as one of the two largest sets of mazurkas written in the 20th century. The other is by Ponce's exact contemporary, Polish composer Karol Syzmanowksi.) They all follow the standard A–B–A–C–A structure typical of the Mexican mazurkas, but pay tribute to Chopin in their capacity to convey a unique musical universe and in their elegant and idiomatic writing. The third theme of each mazurka usually has a lyrical character associated with Mexican folk songs, although all of the melodies are Ponce's own.
Although Ponce's piano repertoire is little known, it remains one of the most original and expressive voices of Latin American music of the twentieth century. Its lyricism and elegance, as heard on this recording, will no doubt lead to its growing dissemination and a wider appreciation of this remarkable composer's ample production. Dr. Ricardo Miranda is Professor of Musicology and head of Postgraduate Studies at the Music Department of the Universidad Veracruzana. A specialist in Mexican music, Dr. Miranda received his PhD at the City University of London in 1992. His published books include "Manuel M. Ponce, ensayo sobre su vida y obra" (Conaculta, 1998).
Album Details
Total Time: 74:40
Producer: James Ginsburg
Engineer: Bill Maylone
Recorded: July 12 & 13, 2005 at WFMT-Chicago
Steinway Piano/ Piano Technician: William Schwartz
Microphones: Sennheiser MKH 40, Schoeps MK 21
Graphic Design: Melanie Germond & Pete Goldlust
Front Cover: "Recoleccion de cosecha" ("Taking in the Harvest") by Inocencio Jimenez Chino (Oapan, Mexico), 1994
© 2005 Cedille Records/Cedille Chicago