Store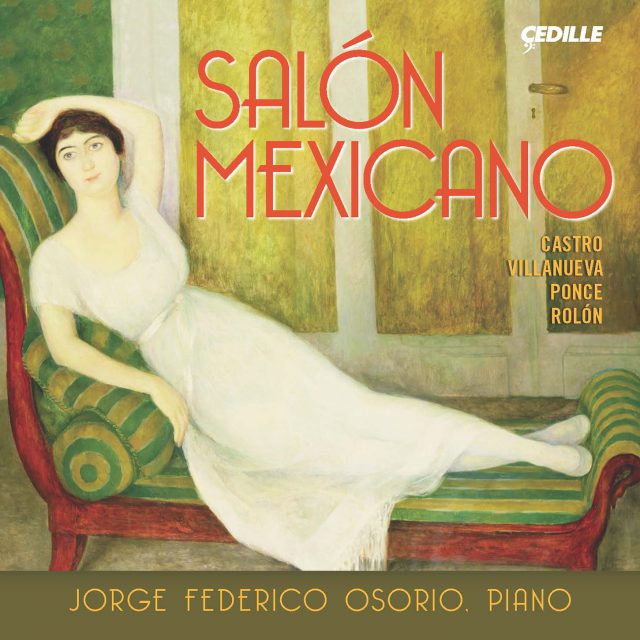 ---
Mexican-born, European-trained pianist Jorge Federico Osorio has been hailed by the Los Angeles Times as "one of the more elegant and accomplished pianists on the planet" and a performer who "always brings new insights, eloquent readings, and an effortless virtuosity all his assignments." A New York Times concert review praised his "considerable imagination for subtle timbres and vivid characterization" and said "the sweep and freshness of his readings made his performances impossible to resist."
On Salón Mexicano, Osorio presents 20 buried treasures from a bygone Romantic era. It's a program of instantly enjoyable gems of intimate "party music" by influential Mexican composers Felipe Villanueva (1862 –1893), Ricardo Castro (1864–1907), Manuel M. Ponce (1882–1948), and José Rolón (1876–1945). They found inspiration in the virtuosic waltzes and mazurkas of European composer-pianists like Chopin and Liszt.
Salón Mexicano is an album of captivating compositions intended to entertain. On it, Osorio introduces them to 21st-century listeners with the luminous and beautifully sculpted pianism that has enchanted critics and audiences on both sides of the Atlantic.
Preview Excerpts
Enjoy our recommended preview track excerpts below
RICARDO CASTRO (1864–1907)
FELIPE VILLANUEVA (1862–1893)
CASTRO
MANUEL M. PONCE (1882–1948)
VILLANUEVA
VILLANUEVA
PONCE
VILLANUEVA
CASTRO
9
Vals amoroso, Op. 31, No. 11
CASTRO
CASTRO
VILLANUEVA
PONCE
CASTRO
14
Vals sentimental, Op. 30, No. 1
CASTRO
PONCE
CASTRO
17
Vals melancólico, Op. 36, No. 2
VILLANUEVA
18
Vals Poético: Vals de Salón para piano
PONCE
19
Canciones Mexicanas: "Por ti mi Corazón…"
JOSÉ ROLÓN (1876–1945)
Artists
1: Jorge Federico Osorio
What the Critics Are Saying
---
---
". . . much of this repertoire consists of what one might call guilty pleasures, and in lesser hands I am pretty sure that most if not all these works would indeed sound like trifles. Put another way, in Osorio's seasoned hands this sentimental music sounds better than it actually is, and, at least in my book, that is the real mark of a true artist.
"The titles of most of the pieces say it all: sentimental, melancholic, romantic, and poetic. The result is music both soothing and stimulating. Add Osorio's pianistic command, and it seems to me a winning combination.
Salón Mexicano
Notes by Andrea Lamoreaux
Some musical purists use "salon music" as a term of contempt. They claim it lacks artistic value; that it is just an early type of Muzak, or meaningless background sound. In the 19th century, however, piano music as a form of pure entertainment had both an artistic and a social function. In those days, before the invention of recording, the advent of radio, and the arrival of MP3 downloads, party music could only be provided by actual performers. Often these were pianist-composers who could create melodies that were singable and danceable, and elaborate them in clever ways that made them highly interesting and entertaining to hear.
Two giants of keyboard composition in the 19th century were Frédéric Chopin and Franz Liszt, virtuoso performers who could invent melodies and exploit every possibility of those themes in a pyrotechnical fashion. Many of Chopin's and Liszt's compositions are complex, soulful works of deep expressiveness and meaning. Others serve a different purpose: to show off pianistic ability, explore every nuance of a tune, and bring a smile to listeners' faces (and probably their own faces as well). Composers and pianists of all levels of inspiration and talent seized upon these elements and created large quantities of such entertainment pieces, or salon music.
The salon style fell out of favor during the 20th century. Now that we're well into the 21st, we hardly ever hear it. Jorge Federico Osorio's current recording brings many of these delightful pieces back to life. It has the further interest of presenting works by composers not generally well known to us: those who revitalized and developed the performance and appreciation of the musical arts in Mexico. Of the four composers represented, only Manuel Ponce has a significant international profile today. Along with Ponce, you will hear pieces by two of his predecessors and one contemporary on this program of musical rediscovery.
Ricardo Castro (1864–1907) came from the generation that preceded Ponce. Ponce's major interest was in traditional Mexican music and its integration into the world of art music. Castro was more inspired by the European styles of his time, and especially by Chopin. Castro performed from an early age in Mexico, Venezuela, the United States, and Paris, while also composing symphonies, concertos, two operas, and a great deal of piano music. Having studied at the conservatory in Mexico City, he became its director shortly before his death.
Opening the disc, Castro's Caprice-Vals, Op. 1, exists also as a piece for piano and orchestra. As a calling-card work, it appears intended entirely as a display piece, an exhibition of startling virtuosity. Through numerous key changes and shifts between major and minor modes, it explores the whole range of the piano's sound and the pianist's art. Structured as a free rondo, it builds to a powerful triple-forte climax in octaves.
Castro's serene, melodious Vals caressante (Caressing Waltz) evokes a vision of ballroom dancers. Also included on the program are Castro's rhapsodic Vals amoroso and lilting Barcarola, reminiscent in mood and rhythm of the famous Barcarolle from Offenbach's Tales of Hoffmann. In between those pieces on the disc, Castro's Mazurca melancólica recalls Chopin. Chopin wrote some 50 mazurkas based on traditional Polish dances; the time signature is 3/4, like a waltz, but the accents are usually placed on the second or third beat, rather than the first. Castro's mazurka is full of challenging octave passages. It's followed later by two more evocations of Chopin's style, the mellow Vals sentimental that makes us again picture ballroom dancers and Vals melancólico, which fluctuates constantly between major and minor. In between, the rippling runs and ornaments Castro loved to write are particularly apparent in Vals bluette (Little Blue Waltz), a waltz more suited for listening than dancing.
Felipe Villanueva (1862–1893) was playing violin in a theater orchestra at the age of 14. He went on to be a composer, pianist, piano teacher, and founder, with Ricardo Castro, of a new Music Institute to enhance the teaching of all things musical to young Mexicans. The six Villanueva pieces on this CD are mostly dedicated to individual students. Sueño Dorado (Golden Dream) is a mazurka, with an introduction set entirely in the piano's treble range; bass notes come in only as the mazurka proper begins. Causerie (Chatter), subtitled "slow waltz," has a hesitation-waltz feeling at the beginning through the left-hand accompaniments to its right-hand melody: a single note, a broken chord, and a rest. In Tercera Mazurka (Third Mazurka), the introductory flourish is followed by a mazurka theme that starts on the second beat, emphasizing the dance's distinctive rhythm. The tunefulness of the opening leads into a virtuosic romp, combining the singing quality that's so much a part of salon music with its equally characteristic brilliance and high spirits. Ebelia, subtitled "Salon Mazurka," starts out with a sequence of rhetorical gestures in changing tempi; having gained our attention, Villanueva begins the mazurka with triplet figures and shifting accents. This highly virtuosic piece ends in an "agitato" flourish. Amor, subtitled "Salon Waltz," opens, like Causerie, with a hesitation-waltz feel, with chords and octaves held over into the next measure. The score of this intense piece features indications such as "with passion" and "with fury." By contrast, Vals Poético ends very quietly with an octave in the piano's high register. It's moderately paced and very lyrical.
One of the most important figures in Latin-American music, Manuel M. Ponce (1882–1948) was a child-prodigy pianist who became a renowned composer, teacher, and musicologist. Ponce researched Mexican music, incorporated it into his concert works, and brought it to the attention of the world. He studied in Mexico City, Italy, and Germany; visited Cuba; met Brazil's Heitor Villa-Lobos in the musical ferment of 1920s Paris; and wrote songs, piano music, guitar works, and symphonic scores. One of his best-known works is the Concierto del Sur for guitar and orchestra, premiered by Spain's guitar icon, Andrés Segovia. Even better known is his song Estrellita, which has been arranged in countless instrumentations and heard worldwide.
Ponce was not ashamed to use the term "salon" in some of his titles, like the passionate 8th Mazurca de Salón that opens his group. Later come instrumental versions of three of his songs: the plaintive Marchita el Alma (My Soul Languishes), which calls for the pianist's best singing tone to express lost love; Todo pasó (All Passes), a very simple tune that also reflects sadness and loss; and, from Ponce's Tres Canciones Populares Mexicanas, Por ti mi Corazón (For You, My Beloved), again a lament of love gone wrong. Rounding out the Ponce selections, another Mazurca de Salón features a scale-based main theme and a more elaborate midsection before the varied return of the opening.
José Rolón (1876–1945), a slightly older contemporary of Ponce and a fellow professor at Mexico's National Conservatory, studied composition in Paris with Nadia Boulanger and was also a conductor. Rolón's Vals Capricho emphasizes the virtuoso element of salon music. Dedicated to Artur Rubinstein, the piece comprises a thrillingly brilliant set of variations on the famous circus and merry-go-round tune "Sobre las Olas" (Over the Waves) by Mexican composer Juventino Rosas (1868–1894). Rolón transforms the famous melody with rich chromatic harmonies, changes the key signatures back and forth, calms it down only to intensify it again with pounding octaves, and builds it all up to a ringing fortissimo coda that resounds from the piano's bass to its top.
Andrea Lamoreaux is Music Director of 98.7 WFMT, Chicago's Classical Experience.
Album Details
Total Time: 74:10
*World Premiere Recording(s)
Producer: James Ginsburg
Engineer: Bill Maylone
Recorded: February 8–9 and April 15, 2012
In the Fay and Daniel Levin Performance Studio at 98.7WFMT
Steinway Piano Technicians: Charles Terr and Ken Orgel
Cover: Portrait of Angelina Beloff, 1918 (oil on canvas), Diego Rivera (1886–1957)
Museo Dolores Olmedo Patiño, Mexico City, Mexico; The Bridgeman Art Library
Cover Design: Sue Cottrill
Inside Booklet and Inlay: Nancy Bieschke
© 2012 Cedille Records/Cedille Chicago