Store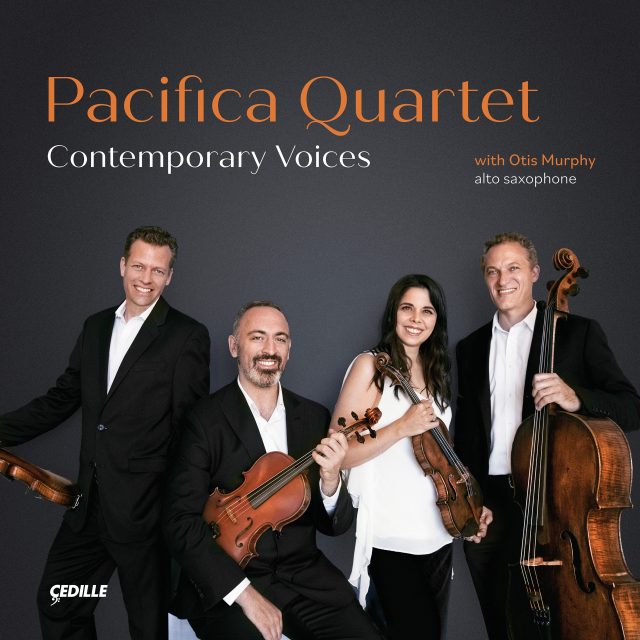 Store
Contemporary Voices
---
2021 Grammy winner! – Best Chamber Music/Small Ensemble Performance
The Grammy Award-winning Pacifica Quartet performs works by three Pulitzer Prize-winning contemporary composers: Shulamit Ran, Jennifer Higdon, and Ellen Taaffe Zwilich.
Written for the Pacifica and receiving its world-premiere recording, Ran's Glitter, Doom, Shards, Memory — String Quartet No. 3 is a moving tribute to painter Felix Nussbaum, who perished in Auschwitz in 1944. Higdon's Voices, dedicated to the Pacifica, evokes explosive energy, otherworldly calm, and spiritual serenity. In Zwilich's Quintet for Alto Saxophone and String Quartet, a lusciously singing saxophone shares the spotlight with virtuosic string playing. The Pacifica, quartet in-residence at Indiana University's Jacobs School of Music, partner with their IU colleague, renowned classical saxophonist Otis Murphy.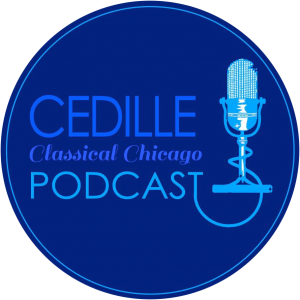 Listen to Jim Ginsburg's interview
with Brandon Vamos on Cedille's
Classical Chicago Podcast
Preview Excerpts
Enjoy our recommended preview track excerpts below
SHULAMIT RAN
Glitter, Doom, Shards, Memory — String Quartet No. 3
3
III. "If I perish — do not let my paintings die."
JENNIFER HIGDON
ELLEN TAAFFE ZWILICH
Quintet for Alto Saxophone and String Quartet
Artists
8: Otis Murphy
What the Critics Are Saying
---
---
Contemporary Voices
Notes by Shulamit Ran, Jennifer Higdon, & Ellen Taaffe Zwilich
Glitter, Doom, Shards, Memory — String Quartet No. 3
(2012–2013) notes by Shulamit Ran
My third string quartet was composed at the invitation of the Pacifica Quartet, whose music-making I came to know intimately and admire greatly when they were resident performing artists at the University of Chicago (1999–2016). The piece was commissioned for Pacifica by Music Accord, Inc., Suntory Hall, and Wigmore Hall.
In our early conversations, Pacifica proposed that this quartet might, insome manner, refer to the visual arts as a point of germination. Probing further, I found out that the quartet members had special interest in art created during the earlier part of the 20th century, perhaps between the two world wars.
It was my good fortune to have met, a short while later, while in residence at the American Academy in Rome in the fall of 2011, art conservationist Albert Albano who steered me to the work of Felix Nussbaum (1904–1944), a German-Jewish painter who, like so many others, perished in the Holocaust at a young age, and who left some powerful, deeply moving art that spoke to the life that was unraveling around him.
The title of my string quartet takes its inspiration from a major exhibit devoted to art by German artists of the period of the Weimar Republic (1919–1933) titled "Glitter and Doom: German Portraits from the 1920s," first shown at New York's Metropolitan Museum of Art in 2006–2007. Nussbaum would have been a bit too young to be included in this exhibit. His most noteworthy art was created in the last very few years of his short life. The exhibit's evocative title, however, suggested to me the idea of "Glitter, Doom, Shards, Memory" as a way of framing a possible musical composition that would be an homage to his life and art, and to that of so many others like him during that era. Knowing that their days were numbered, yet intent on leaving a mark, a legacy, a memory, their art is triumph of the human spirit over annihilation.
Parallel to my wish to compose a string quartet that, typically for this genre, would exist as "pure music," independent of a narrative, was my desire to effect an awareness in my listener of matters which are, to me, of great human concern. To my mind there is no contradiction between the two goals. As in several other works composed since 1969, this is my way of saying "do not forget" — something that, I believe, can be done through music with special power and poignancy.
The individual titles of the quartet's four movements give an indication of some of the emotional strands this work explores.
1. "That which happened" (das was geschah) is how the poet Paul Celan referred to the Shoah — the Holocaust. These simple words served for me, in the first movement, as a metaphor for the way in which an "ordinary" life, with its daily flow and its sense of sweet normalcy, was shockingly, inhumanely, inexplicably shattered.
2. "Menace" is a shorter movement, mimicking a scherzo. It is also machine-like, incessant, with an occasional, recurring, waltz-like little tune — perhaps the chilling grimace we recognize from the executioner's guillotine mask. Like the death machine it alludes to, it gathers momentum as it goes, and is unstoppable.
3. "If I perish — do not let my paintings die." These words are by Felix Nussbaum who, knowing what lay ahead, nonetheless continued painting until his death in Auschwitz in 1944. If the heart of the first movement is the shuddering interruption of life as we know it, the third movement tries to capture something of what I can only imagine to be the conflicting states of mind that would have made it possible, and essential, to continue to live and practice one's art: bearing witness to the events. Creating must have been, for Nussbaum and for so many others, a way of maintaining sanity, both a struggle and a catharsis — an act of defiance and salvation all at the same time.
4. "Shards, Memory" is a direct reference to my quartet's title. Only shards are left. And memory. The memory is of things large and small, of unspeakable tragedy, but also of the song and the dance, the smile, the hopes. All things human. As we remember, in the face of death's silence, we restore dignity to those who are gone.
Voices (1993)
notes by Jennifer Higdon
Voices is the telling of three different images. The first image, "Blitz," carries a tremendous amount of relentless, frenzied energy. It portrays a high level of intensity, always on the verge of explosion. The second image, "Soft Enlacing," carries a much more vague meaning, and is a calming contrast from the first movement. It may be very much like a walk through the house in the middle of the night: while the floor feels solid under foot, the rest of the world, to the eyes and ears, seems to be moving shadows. Again, the image is not meant to be clear-cut and depends upon the listener's "viewing." The final movement, "Grace," is the calmest and carries the most possible number of meanings: the giving of thanks at a meal; the grace seen in behavior or in a personality; the grace of movement; the bestowing of one's self unto others; the quiet presence that exists in a being's soul. The telling of these images is from manic and frenzied to calm and quiet, from specific to vague, and from dark to light.
In 1997, I had the distinct pleasure of working with the Pacifica Quartet at a summer music festival, where we were paired up as a young string quartet/young composer. This is the piece that they performed, and even though we were all just starting our careers, I could already tell that this group was going to soar. Inspired by their incredible musicality and enthusiasm, I decided to dedicate this quartet to them.
Quintet for Alto Saxophone and String Quartet (2007)
notes by Ellen Taaffe Zwilich
I'm the kind of composer who has a "wish list" of works I'm eager to write, but on occasion someone suggests an idea not on my "list" that I find immediately exciting and that leads me in an unexpected direction. My Quintet for Alto Saxophone and String Quartet was inspired by such a suggestion. In honor of the diverse musical ideas stimulated by (commissioning organization) Arizona Friends of Chamber Music president Jean-Paul Bierny's suggested medium, I dedicate the piece to him.
My ideal concept for chamber music is a conversation among equals, a conversation that is unique to the parties involved. In this instance, the alto sax brings a luscious singing quality and a certain sassy attitude to the mix, while the strings offer their amazing agility and variety of articulation, color, and phrasing. One of the great pleasures in writing (or playing or listening to) chamber music is that each player can be a virtuoso soloist one moment and a sensitive partner the next, and this "electricity" becomes an agent of musical form.
My Quintet for Alto Saxophone and String Quartet is in three movements: the first is slow ( = 66); the second is fast ( = 132); and the third is both slow and fast ( = 60; 126; 120).
Album Details
Producer James Ginsburg
Engineer Bill Maylone
Recorded January 16, 2019, Logan Center for the Performing Arts at the University of Chicago (Ran) and December 20–21, 2019, Auer Hall at Indiana University's Jacobs School of Music (Higdon, Zwilich)
Cover Image Lisa-Marie Mazzucco
Booklet Image Felix Nussbaum, "Selfportrait with Jewish Identity Card," 1943, Museumsquartier Osnabrück, Felix-
Nussbaum-Haus Osnabrück/Artists Rights Society (Ars), New York
Graphic Design Bark Design
Publishers
Ran: Glitter, Doom, Shards, Memory — String Quartet No. 3 ©2014 Theodore Presser Company
Higdon: Voices ©1993 Jennifer Higdon (ASCAP)
Zwilich: Quintet for Alto Saxophone and String Quartet ©2008 Theodore Presser Company
© 2020 CEDILLE RECORDS