Store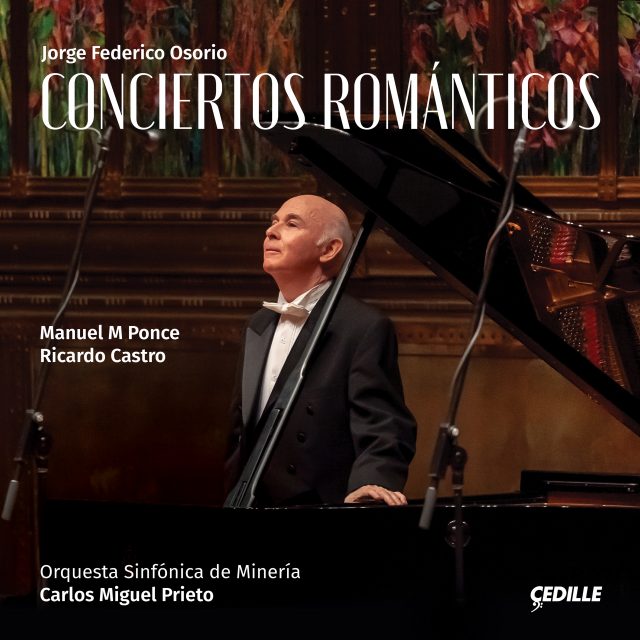 Store
Conciertos Románticos
---
Celebrated Mexican-born pianist Jorge Federico Osorio, "one of the most elegant and accomplished pianists on the planet" (Los Angeles Times) performs Romantic-era concertos and solo pieces by Mexican composers Ricardo Castro and Manuel María Ponce.
A recipient of the prestigious Medalla Bellas Artes, the highest honor granted by Mexico's National Institute of Fine Arts, Osorio is joined for the concertos by Mexican conductor Carlos Miguel Prieto, Musical America's 2019 Conductor of the Year, and the Orquesta Sinfónica de Minería.
The works on this recording exemplify the highest point of the romantic musical language in vogue in Mexico at the end of the 19th century, which later initiated the musical Nationalist movement brought on by the Mexican Revolution.
Both Castro and Ponce made significant contributions to the development of classical music in Mexico, and their music reflects a synthesis of Mexican and European traditions, with influences from Chopin, Liszt, and Debussy.
Castro's Piano Concerto in A minor exemplifies true romanticism with lavish and spectacular orchestral lines. Serving as companion pieces to the concerto, Osorio performs three of Castro's charming and expressive solo works: Berceuse, Canto de amor, and Plainte.
Ponce's Piano Concerto No. 1 "Romantico" simultaneously exhibits themes of great brilliance for the soloist, lyricism, introspection, virtuosity and beauty. Osorio also performs four of Ponce's short solo piano pieces including one of his most popular works, Gavota, which captures the romantic nostalgia of Mexican society before the Revolution.
Conciertos Románticos is Osorio's ninth recording for Cedille following his highly acclaimed The French Album, Final Thoughts – The Last Piano Works of Schubert & Brahms, Russian Recital, Carlos Chávez Piano Concerto, Salón Mexicano, an entire disc devoted to music of Ponce, a 2-CD set of Debussy and Liszt, and Piano Español.
Conciertos Románticos is produced by the Grammy-winning team of James Ginsburg (producer) and Bill Maylone (engineer). The concertos were recorded August 1 and 8, 2022 at the Sala Nezahualcóyotl in Mexico City (Bogdan Zawistowski, session director); the solo works were recorded November 11, 2022, at the Reva and David Logan Center for the Arts at the University of Chicago.
Preview Excerpts
Enjoy our recommended preview track excerpts below
RICARDO CASTRO (1864–1907)
Piano Concerto in A minor, Op. 22
MANUEL MARÍA PONCE (1882–1948)
Piano Concerto No. 1 "Romantico"
Artists
1: Jorge Federico Osorio, Carlos Miguel Prieto, Orquesta Sinfónica de Minería
2: Jorge Federico Osorio, Carlos Miguel Prieto, Orquesta Sinfónica de Minería
3: Jorge Federico Osorio, Carlos Miguel Prieto, Orquesta Sinfónica de Minería
4: Jorge Federico Osorio
5: Jorge Federico Osorio
6: Jorge Federico Osorio
7: Jorge Federico Osorio, Carlos Miguel Prieto, Orquesta Sinfónica de Minería
8: Jorge Federico Osorio, Carlos Miguel Prieto, Orquesta Sinfónica de Minería
9: Jorge Federico Osorio, Carlos Miguel Prieto, Orquesta Sinfónica de Minería
10: Jorge Federico Osorio
11: Jorge Federico Osorio
12: Jorge Federico Osorio
13: Jorge Federico Osorio
What the Critics Are Saying
---
---
Mexican-born pianist Osorio has contributed an important new record that allows us more exposure to some of these great works…
I love this album and have listened to it several times. I hope more music by Castro and Ponce gets recorded in the future. You can consider Conciertos Románticos your gateway drug into this music.
THE TWILIGHT OF MEXICAN ROMANTICISM
Notes by José-María Álvarez
This recording of the piano concertos by Ricardo Castro and Manuel M. Ponce, along with some of their solo piano pieces, shows us the highest point of the romantic musical language in vogue in Mexico toward the end of the 19th century, which, over time, became the musical Nationalist movement brought on by the Mexican Revolution.
In his book, Panorama de la música Mexicana, musicologist Otto-Mayer Serra stated the following, referring to the Mexican piano school of the 19th century:
The oppression and exploitation suffered by the Mexican people since time immemorial had such a profound impact on their musical culture that during the 19th century the substances of their own culture were found distilled and rarefied to such a degree that they barely transcended into a perceptible reality. The musical works written during this historical period are of purely European inspiration and worked, in slavish imitation, on the Italian molds, and later, French and German. Apart from a short flowering of Italian operas, due to Mexican authors, its main field was piano production. Although it did not lead to the creation of a piano style of its own, the piano school was nonetheless of great importance for future historical evolution, since it represented the only element of musical tradition in the 19th century, which leads, in a straight line, from Felipe Larios, Tomás León, Melesio Morales and Julio Ituarte, to Ricardo Castro, with a very important ramification in Felipe Villanueva and Ernesto Elorduy, the cultivators of the "dance" for piano; related to the latter, both spiritually and stylistically, is the first great figure of modern musical nationalism, a pianist like the others: Manuel M. Ponce.
Born in the Municipality of Nazas, in the Mexican State of Durango, on February 7, 1864, Ricardo Rafael de la Santísima Trinidad Castro Herrera (as he was baptized) began his piano studies at the age of six in private lessons with Pedro H. Ceniceros. Ricardo's fascinating advances were evident soon enough in miniature salon pieces that he composed at that age, and which enjoyed enormous acceptance in the most prominent circles of the Durango community.
In 1877, Vicente Castro (Ricardo's father) was appointed Federal Deputy in the Union Congress in Mexico City. His son took advantage of the change of residence to enroll in the National Conservatory, where he studied piano with Juan Pablo Salvatierra and composition with Melesio Morales, and with the greatest Mexican pianist of that time: Julio Ituarte. His impeccable technique and great imagination as a composer brought Castro the invitation to participate as a Mexican representative in the Universal Exhibition in New Orleans in 1885; his undeniable success led him to play solo concerts in Philadelphia, New York, Washington, and other cities in the United States.
Upon his triumphant return to Mexico, he devoted fully to composition and produced innumerable salon pieces that were popular within Mexican high society in the twilight of the 19th century. On the first centenary of the birth of Simón Bolívar, various pieces by Castro were sent to Venezuela to contribute to the festivities. Among them were his Mazurka Enriqueta, a capriccio for piano called Aires Nacionales Mexicanos, and the Fantasies on themes from the operas Norma (Bellini) and Rigoletto (Verdi). Castro achieved his greatest success in 1891 by composing the work that has placed him in immortality: the Caprice-Valse Op. 1, dedicated to Madame Josefina Gallardo de Tornel.
Castro's growing aesthetic maturity can be understood in the words of Yolanda Moreno Rivas:
It was Ricardo Castro who, rising above the stylistic limitations imposed by a successful career as a composer of salon music, took the definitive step towards acquiring a technique of greater scope that would facilitate access to the major forms of romanticism such as the symphony, the concerto, opera and the string quartet.
In 1900, Castro was called to teach at the National Conservatory of Mexico. His work was so respected that he was promoted to become director of the institution. This did not happen until 1907, however, and he held the position for only a few months due to his sudden death in November of that year.
His opera, Atzimba was premiered with great success at the Teatro Arbeu in Mexico City in January 1900. A few months later he received an award from the newspaper El Imparcial with which he was able to afford his residence in Paris for a considerable period. This was also possible due to his popularity with Mexican President Porfirio Díaz's regime, which granted him a monthly income of 500 francs for his stay in Paris and per diems of 700 Mexican pesos (a real fortune in those days!), with the sole purpose of mastering his technique and to "promote good Mexican music."
Following his arrival in the French capital in January 1903, he became friends with Teresa Carreño and Eugène d'Albert, with whom he continued his piano development. He also made the acquaintance of Cécile Chaminade and Camille Saint-Saëns, who offered him support for his various Parisian recitals. From his first days in Paris, Castro devoted himself to promoting his works. This is how he met cellist Marix Loevensohn, who offered to premiere his Cello Concerto. That professional relationship gained Castro access to Belgium's musical world, where he conquered la crême de la crême of society.
Castro's debut as a composer in that country occurred on December 28, 1904, in the Antwerp Zoological Garden's Concert Hall under the direction of Edward Keurvels. In that concert, devoted to Castro's music, were introduced his Minuetto, the Romanza for violin, the Intermezzo, the March and the final scene of the opera Atzimba, as well as his Cello Concerto and the world premiere of his Piano Concerto with Castro as soloist.
The Piano Concerto, probably written between 1885 and 1887, hailed by European critics as "intrepid and lucid . . . end[ing] in a delirious Polonaise," shares (with other Castro scores such as his Cello Concerto) a language nestled in the sound procedures of 19th-century romanticism, with lavish and spectacular orchestral lines, while its solo material finds antecedents in Franz Liszt. It is not idle to define this score as worthy of an aesthetic modernism that Castro cultivated thanks to his cosmopolitan ambitions and the transition he fostered from simple salon pieces to an elaborate language in which harmony and rhythm found new horizons. Thus, the greatness of this Concerto finds certain roots in the music of Edvard Grieg, as well as in Frédéric Chopin and Xaver Scharwenka. Furthermore, its cyclical structure is connected to works such as Cesar Franck's Symphony and Sonata for violin and piano, Saint-Saëns' Third Symphony, and Liszt's Piano Sonata.
After the premiere of Castro's Piano Concerto, La Gazet van Antwerpen commented that "the composer-performer charmed everyone with his dignity and his perfect conception of nuances. His Polonaise especially was fervently acclaimed and provided a well-deserved return to more applause."
This Concerto constitutes the first concertante piece for piano that any Mexican — or Latin American — composer had written up to that time. Castro's path was later followed by the Concierto romántico of Manuel María Ponce and the Concerto by José Rolón, among other works. Castro was also the first Mexican composer to write symphonies (in 1883 and in 1887) and an orchestral tone poem (Oithona, in 1885).
Glory covered Castro upon his return to Mexico on October 8, 1906, disembarking like a true conqueror of the Old World, in addition to having ensured publishing for some of his works: the Piano Concerto was released by Hofmeister in Leipzig, which was also in charge of editing the libretto for his opera La légende de Rudel, after which Castro produced two more operas: Satán vencido and El beso de la Roussalka (both missing).
In November of that year, Mexican President Porfirio Díaz and his wife Carmen Romero Rubio celebrated their silver wedding anniversary. To commemorate this important occasion, Castro was invited to play his Piano Concerto at the Teatro del Conservatorio. Journalist Enrique Olavarría y Ferrari chronicled the presentation, calling it a "great concerto":
This composition is one of the most unequivocal proofs — among the many that have already been given — of how hard he has worked and what admirable progress its author has made, and has highlighted the following qualities that Ricardo Castro brings, refined to the quintessence: exquisite temperament, formidable technique and ductile correct style, extremely elegant.
The score of Castro's Piano Concerto bears a dedication to composer Carl Reinecke.
To round off the audition of the Castro's Concerto, Jorge Federico Osorio offers us three short pieces for solo piano by this author. Written in 1896 and dedicated to Felipe Pedrell, Canto de amor was first heard as "Chant d'amour" at the opening of the concert hall owned by publishers Wagner & Levien in Mexico City. In 1902, the newspaper El Imparcial commented:
The Chant d'amour honors the composer for his courage and inspiration; recalls Wagner's erotic manner and Liszt's passionate outbursts; the "Canto de amor," a tender and vehement phrase, develops with great amplitude, grows in interest, does not wane for a moment, on the contrary, it stands out insistent, pleading or impetuous, with dramatic inflections against a richly harmonized background.
The Berceuse Op. 36, No. 1, written in 1906 to be included in the Musical Album of the newspaper El Mundo Ilustrado, is a tender and evocative lullaby that contains the best of Castro's romantic thought.
And Plainte Op. 38, No. 2, conceived as a sort of song without words in the last year of Castro's life is, as Rogelio Álvarez Meneses stated, "one of Castro's best-achieved miniatures, in which he shows off his refined compositional craft by creating an exquisite piece with great economy of means."
Manuel María Ponce (born December 8, 1882, in Fresnillo, Zacatecas) was a unique personality in the field of musical culture in Mexico, developing many activities in favor of promotion of music and artistic enrichment. Ponce combined his brilliant career as a composer with those of pianist, conductor, educator, musicologist, researcher on Mexican musical folklore (resulting in a considerable number of writings), and music critic, among other activities. Likewise, the title of initiator of the musical Nationalist movement fell to Ponce after the consummation of the Mexican Revolution.
Otto Mayer-Serra comments:
In 1912 — a few years after returning from his first trip to Europe — Manuel M. Ponce presented himself to the Mexican public with his memorable concert at the Teatro Arbeu, whose program was dedicated exclusively to his own compositions; among them was a whole series of piano pieces, based on popular melodies. This artistic event meant the inauguration of a new phase in Mexican music. His initiative meant, for Mexico, a decisive step toward the recovery of his own musical personality. Within the general evolution of music, Ponce thereby created a new ramification of the "folklorist" stream that had led, in various countries, to the formation of national schools.
In the same way that Ponce is recognized with all the aforementioned attributes, an important sector of the public has not been able to enjoy fully his concert music and, on occasions, he is remembered only for some of his songs that have been heard all over the globe several times (Estrellita or A la orilla de un palmar, e.g.).
To understand Ponce's musical output, it is essential to learn that his work is divided into two creative periods, one romantic and the other modern, each divided into two. His romantic era spans from 1891 to 1904, before his first trip to Europe, and from 1905 to 1924, upon his return from his first European experience. The modern one started between 1925 and 1932, when — during his stay in Paris — he became familiar with impressionism, and continued from 1933 to 1948, upon his return from the French capital. This period has been called "the most nationalist" in his production and, according to music critic Adolfo Salazar:
…this is the last, decisive stage of Ponce's career. In it, the advances of modern art will unite, harmoniously and without stridency, with the sap of the earth. It is the moment of his fullness… Ponce's renovation was sincere, and he expressed himself as naturally in his second manner as in his first…
Ponce found enough strength and determination to turn around Mexican musical life thanks to his experiences abroad. A student of the National Conservatory of Mexico since 1901 and a disciple of Vicente Mañas and Eduardo Gabrielli, Ponce decided that the musical milieu of his country did not satisfy him at that moment to continue his artistic progress. Thus, he made his first trip to Europe around 1904, arriving first in Italy and later in Germany — countries where he was under the tutelage of Cesare Dall'Olio, Luigi Torchi and Martin Krause, the latter a disciple of Franz Liszt and professor of the legendary Claudio Arrau.
Thus, upon his return to Mexico, Ponce created some of his most famous scores, such as his Piano Concerto No. 1, Estampas nocturnas for string orchestra, Trío romántico for violin, cello and piano (all written between 1911 and 1912), and Balada Mexicana (1916).
With regard to his Piano Concerto No. 1, Ponce played its premiere as soloist on July 7, 1912, at the Teatro Arbeu in Mexico City with an orchestra called "Beethoven" conducted by Julián Carrillo. The work is in a purely European language but, unlike Ricardo Castro's Concerto, Ponce's is closer to the German tradition than to French music, wisely decanted by Ponce's pen to show at various times the feelings of Mexico and its society at the beginning of the 20th century. Structured in four movements (Allegro appassionato, Andantino amoroso, Allegretto, and Allegro), played without interruption, this Piano Concerto is imbued with the teachings he received from Krause as a direct antecedent of Liszt's idiomatics. At times, however, it is clearly perfumed by the spirit of Chopin, notably in the work's solemn beginning.  While there are no nationalist overtones in this Concerto, the second movement seems to evoke a tender Mexican love song, especially in the dialogue between english horn and piano.
For obvious reasons, this Concerto has been known for a long time as "romantic" (Concierto romántico in Spanish), and in it superbly coexist themes of great brilliance for the soloist, lyricism, introspection, virtuosity and great beauty. Pablo Castellanos, musicologist, pianist and eminent scholar of Ponce, has commented:
In the piano literature of the entire American Continent and the Iberian Peninsula, from the period corresponding to romanticism, there is no more representative nationalist concerto (such as the Concerto for piano No. 1 of Ponce).
As a complement to the Ponce Concerto, Jorge Federico Osorio offers us four short solo piano pieces: Intermezzo No. 1 that belongs to Ponce's second creative period, although its exact date of composition is unknown. This is considered one of the "great little jewels" not only of Ponce's repertoire but of international pianism. Although brief, the Intermezzo is structured in sonata form, with an introduction, two subsequent themes, an exposition that leads to a cadenza, the reexposition, and the fantastic short final coda.
We also hear Arrulladora Mexicana (1909), based on the popular song La rancherita, and the Romanza de amor written for his wife Clema, which dates from 1914.  Its unique appeal is (in the words of Paolo Mello) in its sensitive harmonic changes.
The album also contains one of Ponce's universally known pieces: his Gavota, from 1901, whose main theme seems to encapsulate the romantic nostalgia of Mexican society before the Revolution.
José-María Álvarez has served as program annotator for orchestras including the National Symphony of Mexico, Mexico City Philharmonic, Jalisco Philharmonic and, currently, the State of Mexico Symphony Orchestra.
EL CREPÚSCULAR ROMANTICISMO MEXICANO
Notes by José-María Álvarez
Esta grabación de los Conciertos para piano de Ricardo Castro y Manuel M. Ponce, además de varias de sus piezas para piano solo, nos muestra el punto más alto del lenguaje musical romántico de moda en México hacia fines del siglo XIX y que con el tiempo se transformó en el movimiento Nacionalista musical como consecuencia de la Revolución mexicana.
El musicólogo Otto-Mayer Serra consignó lo siguiente en su libro Panorama de la música mexicana al referirse a la escuela pianística mexicana del siglo XIX:
La opresión y explotación que sufrió el pueblo mexicano desde tiempo inmemorial, repercutieron tan hondamente en su cultura musical, que durante el siglo XIX, las substancias de una cultura propia se hallaron destiladas y enrarecidas hasta tal grado, que apenas trascendieron a una realidad perceptible. Las obras musicales escritas durante este período histórico son de inspiración netamente europea y trabajadas, en una imitación esclava, sobre los moldes italianos, y posteriormente, franceses y alemanes. Aparte una corta floración de óperas italianas, debidas a autores mexicanos, su campo principal fue la producción para piano. Aunque no se llegó a la creación de un estilo de piano de rasgos propios, la escuela pianística tuvo, no obstante, una gran importancia para la futura evolución histórica, puesto que significó el único elemento de tradición musical en el siglo XIX, que conduce, en línea recta, de Felipe Larios, Tomás León, Melesio Morales y Julio Ituarte, a Ricardo Castro, con una ramificación muy importante en Felipe Villanueva y Ernesto Elorduy, los cultivadores de la "danza" para piano; con estos últimos está relacionado, tanto espiritual como estilísticamente, la primera gran figura del moderno nacionalismo musical, pianista como los anteriores: Manuel M. Ponce.
Nacido en el Municipio de Nazas, Durango, el 7 de febrero de 1864, Ricardo Rafael de la Santísima Trinidad Castro Herrera (como fue bautizado) empezó a estudiar piano a la edad de seis años en clases privadas con Pedro H. Ceniceros. Muy pronto los avances fascinantes de Ricardo fueron evidentes en diminutas piezas de salón que compuso a esa edad y que gozaron de enorme aceptación en los círculos más destacados de la sociedad duranguense.
En 1877 Vicente Castro (el padre de Ricardo) fue designado diputado federal en el Congreso de la Unión en la ciudad de México, por lo que su hijo aprovechó para inscribirse en el Conservatorio Nacional donde estudió piano con Juan Pablo Salvatierra y composición con Melesio Morales, además de perfeccionarse con el máximo pianista mexicano de esos tiempos: Julio Ituarte. Su impecable técnica y gran imaginación como compositor le trajo a Castro la invitación para participar como representante mexicano en la Exposición Universal de Nueva Orleans en 1885; ese fue el trampolín que lo llevó a ofrecer conciertos en Filadelfia, Nueva York, Washington y otras ciudades de la Unión Americana.
A su regreso triunfal a México después de esa gira, se dedicó de lleno a la composición y produjo innumerables piezas de salón que estaban de moda en la sociedad mexicana en el ocaso del siglo XIX. Con motivo del primer centenario del nacimiento de Simón Bolívar fueron enviadas diversas piezas de Castro a Venezuela para contribuir a los festejos. Entre ellas se encontraban su Mazurka Enriqueta, un capricho para piano llamado Aires Nacionales Mexicanos y las Fantasías sobre temas de las óperas Norma de Bellini y Rigoletto de Verdi. Castro logró el más grande de los éxitos al componer, en 1891, el Vals capricho Op. 1, dedicado a Josefina Gallardo de Tornel, la obra que lo ha colocado en la inmortalidad.
La creciente madurez estética de Castro puede ser entendida en palabras de Yolanda Moreno Rivas:
Fue Ricardo Castro quien, elevándose por encima de las limitaciones estilísticas impuestas por una exitosa carrera como compositor de música de salón, dio el paso definitivo hacia la adquisición de una técnica de mayor envergadura que le facilitaría el acceso a las formas mayores del romanticismo como la sinfonía, el concierto, la ópera y el cuarteto de cuerdas.
En 1900 fue llamado a impartir cátedra en el Conservatorio de México y su trabajo era tan respetado que se le promovió para convertirse en director de la institución, pero no ocurrió sino hasta 1907 y sólo desempeñó el cargo pocos meses debido a su inesperada muerte en noviembre de ese año.
Su ópera Atzimba fue estrenada con gran éxito en el Teatro Arbeu de la ciudad de México en enero de 1900 y algunos meses después recibió un premio del periódico El Imparcial con el que pudo sufragar su residencia en París durante un período considerable. Eso también fue posible gracias a su popularidad con el régimen del presidente de México Porfirio Díaz, que le otorgó una renta mensual de 500 francos para su estancia en París y viáticos por 700 pesos, con el único propósito de que perfeccionara su técnica y difundiera "la buena música mexicana."
Desde su llegada a la capital francesa en enero de 1903 hizo amistad con Teresa Carreño y con Eugène d'Albert, con quienes continuó su perfeccionamiento pianístico. También se relacionó con Cécile Chaminade y con Camille Saint-Saëns, quien le ofreció apoyo para sus diversos recitales parisinos. Desde sus primeros días en París Castro se dedicó a promover sus obras; así fue como conoció al violoncellista Marix Loevensohn quien se ofreció a estrenar su Concierto para violoncello y gracias a esa relación profesional y afectiva Castro pudo acceder al mundo musical de Bélgica donde conquistó a la crême de la crême de la sociedad.
El debut como compositor de Castro en aquel país ocurrió el 28 de diciembre de 1904 en la Sala del Jardín Zoológico de Amberes bajo la dirección de Edward Keurvels. En ese concierto pudieron escucharse, entre otras obras del propio Castro, el Minuetto, la Romanza para violín, el Intermezzo, la Marcha y la Escena final de la ópera Atzimba, así como su Concierto para violoncello y el estreno mundial de su Concierto para piano con el propio autor en la parte solista.
El Concierto para piano, probablemente escrito entre 1885 y 1887, definido por la crítica europea como "intrépido y lúcido, que se resuelve en una delirante Polonesa" comparte con otras partituras de Castro (como es el caso de su Concierto para violoncello) un lenguaje enclavado en los procedimientos sonoros del romanticismo del siglo XIX, con trazos orquestales fastuosos y espectaculares, y su materia sonora solista encuentra antecedentes en Franz Liszt. No es ocioso definir a esta partitura como digna de un modernismo estético que Castro dejó acuñado gracias a sus ambiciones cosmopolitas y la transición que propició de las sencillas piezas de salón hasta un lenguaje elaborado en el que armonía y ritmo encuentran nuevos horizontes. Así pues, lo grandioso de este Concierto encuentra ciertas raíces en la música de Edvard Grieg, pero también en Frédéric Chopin y en Xaver Scharwenka. Y más aún: su estructura cíclica está apegada a obras como la Sinfonía y la Sonata para violín y piano de Cesar Franck, la Tercera sinfonía de Saint-Saëns o la Sonata para piano de Liszt.
Posterior al estreno del Concierto de piano, La Gazet van Antwerpen comentó que "el compositor-intérprete encantó a todos con su dignidad y su perfecta concepción de matices. Especialmente su Polonaise fue aclamada fervorosamente y le proporcionó un merecido retorno a recibir más aplausos."
Así pues, este Concierto para piano constituye la primera pieza concertante para el instrumento que algún compositor mexicano — y latinoamericano — haya escrito hasta ese momento, y que más tarde siguieron su senda obras como el Concierto romántico de Manuel María Ponce y el Concierto de José Rolón. Y, en ese sentido, Castro también fue el primer compositor mexicano en escribir sinfonías (una en 1883 y la segunda en 1887) y un poema sinfónico (Oithona, en 1885).
La gloria cubrió a Castro a su regreso a México el 8 de octubre de 1906, desembarcando como todo un conquistador del Viejo Mundo, además de haber asegurado la publicación de varias de sus partituras: el Concierto para piano fue editado por la casa Hofmeister de Leipzig, que también se encargó de publicar el libreto de su ópera La leyenda de Rudel, después de la cual Castro produjo dos óperas más: Satán vencido y El beso de la Roussalka, ambas extraviadas.
En noviembre de ese año se festejaron las bodas de plata del presidente de México Porfirio Díaz y su esposa Carmen Romero Rubio. Para conmemorar tan importante ocasión Castro fue invitado a tocar su Concierto para piano en el Teatro del Conservatorio. El periodista Enrique Olavarría y Ferrari hizo una crónica de la presentación, refiriéndose a la partitura como un "grandioso concierto":
Es esta composición una de las pruebas más inequívocas — entre las muchas que ya tiene dadas — de cuanto ha trabajado y de cuan admirables progresos ha hecho su autor, y ha puesto de relieve las siguientes cualidades que trae Ricardo Castro, depuradas hasta la quintaesencia: temperamento exquisito, técnica formidable y dúctil estilo correcto, elegantísimo.
La partitura del Concierto para piano de Castro porta una dedicatoria a Carl Reinecke.
Para redondear la audición del Concierto de Castro, Jorge Federico Osorio nos propone tres breves piezas para piano solo de este autor. Primero, el Chant d'amour escrito en 1896 y dedicado a Felipe Pedrell, escuchado por primera vez en la inauguración de la sala de conciertos de los editores Wagner y Levien en la ciudad de México. En 1902 el periódico El Imparcial comentó sobre ella:
El Chant d'amour hace honor al compositor por su valentía e inspiración; recuerda la manera erótica de Wagner y los arranques apasionados de Liszt; el "Canto de amor," una frase tierna y vehemente, se desarrolla con gran amplitud, crece en interés, no decae un momento, por el contrario, se destaca insistente, suplicante o impetuosa, con dramáticas inflexiones sobre un fondo ricamente harmonizado.
Prosigue la Berceuse Op. 36 núm. 1, escrita en 1906 para ser incluida en el Álbum Musical del periódico El Mundo Ilustrado, es una tierna y evocativa canción de cuna que contiene lo mejor del pensamiento romántico de Castro.
Y Plainte Op. 38 núm. 2, concebida como una suerte de canción sin palabras en el último año de vida de Castro es, en palabras de Rogelio Álvarez Meneses, "una de las miniaturas mejor logradas de Castro, en la que hace gala de su depurado oficio compositivo al crear una pieza exquisita con gran economía de medios."
Manuel María Ponce (nacido el 8 de diciembre de 1882 en Fresnillo, Zacatecas) fue una personalidad singular en el ámbito de la cultura musical de México al desarrollar una gran cantidad de actividades a favor de la difusión y el enriquecimiento artístico. Ponce combinó su brillante carrera de compositor con las de pianista, director de orquesta, pedagogo, musicólogo, investigador sobre el folclor musical mexicano (dando como resultado una considerable cantidad de escritos al respecto), crítico musical, entre otras actividades. Igualmente, ha recaído en el nombre de Ponce el título de iniciador del movimiento Nacionalista musical posterior a la culminación de la Revolución mexicana. Así lo evidenciamos gracias a Otto Mayer-Serra:
En el año 1912 — pocos años después de volver de su primer viaje a Europa — Manuel M. Ponce se presentó al público mexicano con su memorable concierto en el Teatro Arbeu, cuyo programa estuvo dedicado exclusivamente a composiciones propias; entre ellas figuraba toda una serie de piezas para piano, basadas en melodías populares. Este acontecimiento artístico significó la inauguración de una nueva fase en la música mexicana. Su iniciativa significó, para México, un paso decisivo hacia el recobramiento de su propia personalidad musical. Dentro de la evolución general de la música, Ponce creó con ello una nueva ramificación de la corriente 'folklorista' que había provocado, en diversos países, la formación de escuelas nacionales.
De la misma forma que Ponce es reconocido con todos los atributos mencionados, un importante sector del público no ha podido disfrutar plenamente de la difusión de la música de concierto de este compositor y, en ocasiones, sólo se le recuerda por algunas de sus canciones que han dado varias vueltas al globo terráqueo (Estrellita o A la orilla de un palmar).
Para comprender el pensamiento musical de Ponce es indispensable saber que su obra está dividida en dos fases creativas, una romántica y la otra moderna, divididas cada una de ellas en dos. La etapa romántica comprende de 1891 a 1904, antes de su primer viaje a Europa y de 1905 a 1924, a su regreso de la primera experiencia europea. Y la moderna de entre 1925 y 1932, en la que durante su estancia en París se familiarizó con el impresionismo; y de 1933 a 1948, desarrollada al regreso del músico de la capital francesa. A esta etapa se le ha llamado como "la más nacionalista" en su producción, y según el músico y crítico Adolfo Salazar:
…ésta es la última, decisiva etapa de la carrera de Ponce. En ella, los avances del arte moderno se unirán, armoniosamente y sin estridencias, a la savia de la tierra. Es el momento de su plenitud… la conversión de Ponce fue sincera y se expresó con la misma naturalidad en su segunda manera que en la primera…
Ponce había encontrado la fuerza y determinación suficientes para dar un vuelco en la vida musical mexicana gracias a sus experiencias en el extranjero. Alumno del Conservatorio Nacional de México desde 1901 y discípulo del español Vicente Mañas y el italiano Eduardo Gabrielli, Ponce decidió que el medio musical de su país no lo satisfizo en ese momento particular para continuar con sus progresos artísticos. De tal suerte, realizó su primer viaje a Europa hacia 1904, llegando primero a Italia y posteriormente a Alemania, países en los que estuvo bajo la tutela de Cesare Dall'Olio, Luigi Torchi y Martin Krause, discípulo este último de Franz Liszt y profesor, a su vez, de Claudio Arrau.
Así, a su regreso a México, Ponce creó algunas de sus célebres partituras como el Concierto para piano núm. 1, las Estampas nocturnas, el Trío romántico para violín, violoncello y piano (todas escritas entre 1911 y 1912) y la Balada mexicana (1916).
En lo que se refiere a su Concierto para piano núm. 1 cabe mencionar que el propio Ponce tocó su estreno como solista el 7 de julio de 1912 en el Teatro Arbeu de la ciudad de México con una Orquesta llamada "Beethoven" dirigida por Julián Carrillo. La obra es, definitivamente, de un lenguaje netamente europeo pero, a diferencia del Concierto de Ricardo Castro, éste es más cercano a la música alemana que a la francesa, sabiamente decantado por la pluma de Ponce y que asoma en diversos momentos las sensaciones del México de principios del siglo XX. Estructurado en cuatro movimientos (Allegro appassionato, Andantino amoroso, Allegretto y Allegro) que se tocan sin interrupción, este Concierto para piano está impregnado de las enseñanzas que recibiera de su profesor Krause como antecedente directo de la idiomática de Liszt, aunque en momentos está claramente perfumado por el espíritu de Chopin, notorio en el solemne inicio de la obra. Y aunque no existen tintes nacionalistas en este Concierto, hay que reconocer que el segundo movimiento parece evocar una tierna canción de amor mexicana, especialmente en el diálogo entre el corno inglés y el piano.
Por razones evidentes, a este Concierto se le ha conocido durante mucho tiempo como "romántico", y en él conviven de forma genial temas de gran lucimiento para el solista, lirismo, introspección, virtuosismo y una gran belleza. Pablo Castellanos, musicólogo, pianista y eminente estudioso de Ponce, ha comentado:
En la literatura pianística de todo el Continente Americano y de la Península ibérica, del período correspondiente al romanticismo, no figura un concierto nacionalista más representativo (como el Concierto para piano núm. 1 de Ponce).
Como complemento al Concierto de Ponce, Jorge Federico Osorio nos ofrece cuatro breves piezas para piano solo de este autor: el Intermezzo núm. 1 que pertenece a la segunda etapa creativa de Ponce, aunque se desconoce su fecha exacta de composición. Esta es considerada como una de las "pequeñas grandes joyas" no sólo del repertorio de Ponce sino del pianismo mundial. Aunque breve, el Intermezzo está estructurado en forma sonata, con una introducción, dos temas subsecuentes, una exposición que nos conduce a una cadenza, la reexposición y la fantástica y breve coda final.
Posteriormente escuchamos la Arrulladora mexicana (1909) y que está basada en la canción popular La rancherita, y la Romanza de amor que data de 1914, escrita por Ponce para su esposa Clema y cuyo atractivo singular radica en sus sensibles cambios armónicos.
Termina el álbum con una de las piezas universalmente conocidas de Ponce: su Gavota del año 1901 y en cuyo tema principal parece encapsularse aquel ocaso romántico de la sociedad mexicana antes de enfrentarse al movimiento revolucionario.
José-María Álvarez ha sido editor de notas al programa para Orquestas como la Sinfónica Nacional de México, Filarmónica de la Ciudad de México, Filarmónica de Jalisco y actualmente de la Orquesta Sinfónica del Estado de México.
Album Details
PRODUCER
Jim Ginsburg
ENGINEER
Bill Maylone
SESSION DIRECTOR
(Mexico) Bogdan Zawistowski
SESSION ENGINEER
(Mexico) Gabriel Castañon
ASSISTANT DIRECTOR
(Mexico) Santiago E. Osorio
STEINWAY PIANO
TECHNICIANS
Gabriel Acosta (Mexico City), Ken Orgel (Chicago)
COVER PHOTO  
©Lorena Alcaraz Minor
PACKAGING DESIGN
Bark Design
RECORDED
August 1 and 8, 2022, Sala Nezahualcóyotl, Mexico City
November 11, 2022, Reva and David Logan Center for the Arts
at the University of Chicago