---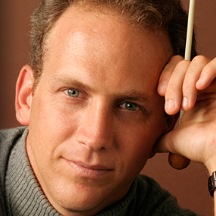 Artists
Carlos Miguel Prieto
Conductor
---
An exciting and insightful communicator renowned for his charismatic presence on the conductor's podium and his versatile command of various composers and styles, Carlos Miguel Prieto is considered one of the most dynamic young conductors on the classical stage today. Music director of the Orquesta Sinfónica Nacional de México and the Orquesta Sinfónica de Minería in his native Mexico, and the Louisiana Philharmonic Orchestra in the United States, Maestro Prieto was named music director of the YOA Orchestra of the Americas in November 2011. In high demand as a guest conductor, Maestro Prieto's numerous North American guest conducting credits include the symphony orchestras of Chicago, Seattle, Dallas, Toronto, Houston, Indianapolis, Colorado, Vancouver, and San Antonio; the philharmonic orchestras of Florida, New Mexico, Dayton, and Calgary; and every major orchestra in Mexico. He has conducted orchestras throughout Europe, Russia, Israel, and Latin America. Recent debuts abroad include the New Japan Philharmonic in Japan, Frankfurt Radio Symphony Orchestra in Germany, Teatro Colon in Buenos Aires, and the Netherlands Radio Orchestra in Utrecht.
Prieto has made a series of recordings of Latin American and Mexican music for the Urtext label. His Naxos recording of Korngold's Violin Concerto with violinist Philippe Quint and the Orquesta Sinfónica de Minería received a Grammy nomination. A graduate of Princeton and Harvard Universities (where he was concertmaster of the orchestra), Prieto studied conducting with Jorge Mester, Enrique Diemecke, Charles Bruck, and Michael Jinbo.
(en español)
Carlos Miguel Prieto, un estimulante y perspicaz comunicador reconocido por su carismática presencia en el podio y su versátil dominio de los distintos compositores y estilos, es considerado uno de los más dinámicos jóvenes directores en la escena de la música clásica del presente. Director de la Orquesta Sinfónica Nacional de México y de la Orquesta Sinfónica de Minería en su país nativo, y de la Orquesta Filarmónica de Louisiana, en los Estados Unidos, en noviembre de 2011 el Maestro Prieto fue también nombrado director musical de la YOA Orquesta de las Américas. En gran demanda como director invitado, los créditos del Maestro Prieto en América del Norte incluyen las orquestas sinfónicas de Chicago, Seattle, Dallas, Toronto, Houston, Indianápolis, Colorado, Vancouver y San Antonio; las orquestas filarmónicas de Florida, Nuevo México, Dayton y Calgary; y todas las orquestas de primera categoría en México. También ha dirigido orquestas en Europa, Rusia, Israel y América Latina. Sus recientes debuts en el exterior incluyen la Nueva Filarmónica de Japón, la Orquesta Sinfónica de la Radio de Francfort, en Alemania, la del Teatro Colón, en Buenos Aires, y la Orquesta de la Radio de Holanda, en Utrecht.
Prieto ha hecho una serie de grabaciones de música latinoamericana y mexicana para el sello Urtext. Su grabación en Naxos del Concierto para Violín de Korngold con el violinista Philippe Quint y la Orquesta Sinfónica de Minería, recibió una nominación para el Grammy. Graduado en la universidades de Princeton y Harvard (donde fue concertino de la orquesta), Priesto estudió dirección con Jorge Mester, Enrique Diemecke, Charles Bruck y Michael Jinbo.