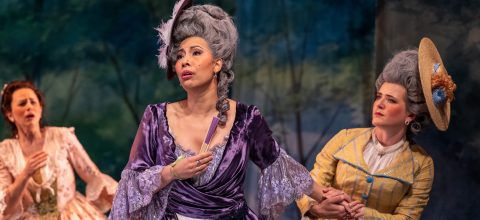 ---
Discover
WFMT L'Amant Anonyme broadcast, Saturday, November 5, 12PM CT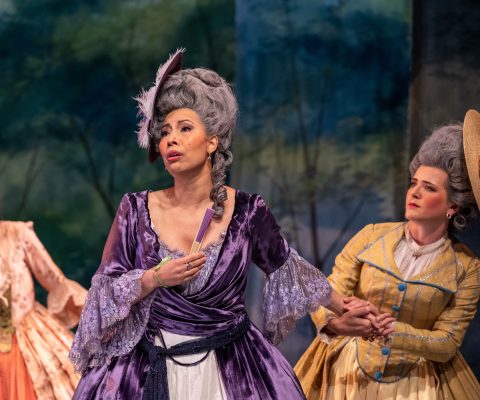 ---
HAYMARKET OPERA COMPANY'S WORLD-PREMIERE RECORDING OF JOSEPH BOLOGNE'S 1780 OPERA L'AMANT ANONYME (THE ANONYMOUS LOVER) TO AIR NATIONWIDE ON WFMT RADIO NETWORK SATURDAY, NOVEMBER 5 AT 12:00 P.M. CT*
Cedille Records brings a little-known masterpiece to a nationwide audience on Saturday, November 5 at 12:00 p.m. CT (*check local listings), when Chicago's WFMT Radio Network broadcasts the Haymarket Opera Company's world-premiere Cedille recording of L'Amant Anonyme (The Anonymous Lover) by Joseph Bologne, Chevalier de Saint-Georges (1745–1799). A biracial man of French and African descent, Bologne rose to fame among the 18th-century European aristocracy as an accomplished swordsman, virtuosic violinist, and celebrated composer. This airing is a special preview broadcast well in advance of the recording's February 10, 2023, release. The opera is also the first album to be funded, in part, by the newly established Ruth Bader Ginsburg Fund for Vocal Recordings at Cedille Records, honoring the late Justice's love of vocal music.
Premiered in 1780, L'Amant Anonyme was the most successful of Bologne's six operas and is the only one to survive to the present day. Based on a play by the composer's patroness Félicité de Genlis, who was a respected writer of the era, the work is an opéra comique in two acts composed in the then-popular style that mixed sung parts with spoken dialogue, dance, and more — a style most familiar to audiences today through the "Opéra Comique" version of Bizet's Carmen.All of these theatrical elements were present in Haymarket Opera Company's June 2022 production of L'Amant Anonyme ("as delightful a production of this neglected bonbon as one could imagine," Chicago Tribune), and all are represented on the upcoming album, recorded in sessions immediately following the run of live performances.
The cast is headlined by soprano Nicole Cabell in the lead role of Léontine, opposite tenor Geoffrey Agpalo as her secret admirer Valcour. Ms. Cabell, the 2005 winner of the BBC Cardiff Singer of the World Competition, has appeared in opera houses around the world, including the Metropolitan Opera, Royal Opera House, Deutsche Oper Berlin, and Lyric Opera of Chicago. Mr. Agpalo, a Chicago native, is also known to the city's audiences through appearances with Lyric Opera of Chicago and the Chicago Symphony Orchestra. Additional highlights include roles at Opera Theatre of Saint Louis and Michigan Opera Theatre. Both singers made their company debuts in the live production of L'Amant Anonyme, with the Chicago Tribune praising Ms. Cabell's "expertly, convincingly shaded … radiant soprano" and Mr. Agpalo's "hall-filling, bel canto sensibility … his tenor plush, fluid, and lip-smackingly sweet." The cast also includes David Govertsen (Ophémon), Erica Schuller (Jeannette), Michael St. Peter (Colin), and Nathalie Colas (Dorothée). Company founder and artistic director Craig Trompeter leads the performance, conducting a 19-member contingent of the period-instrument Haymarket Opera Orchestra. Hosted by WFMT's Lisa Flynn, the broadcast will feature interviews with Ms. Cabell, Mr. Trompeter, and company general director Chase Hopkins.
Click HERE to listen live on November 5 at 12PM CT! Click HERE for more information about the WFMT Broadcast of L'AMANT ANONYME!
---
Recommended