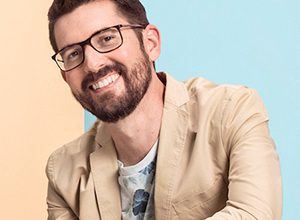 ---
Discover
Take 5: Peter Martin of Third Coast Percussion
Peter Martin of the Grammy Award-winning ensemble Third Coast Percussion discusses Coltrane inspirations, Chicago's vibrant classical community, and working with Devonté Hynes.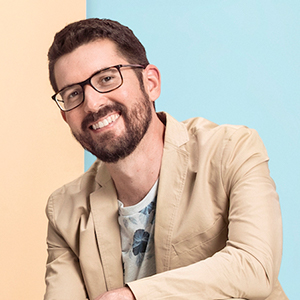 ---
Third Coast Percussion's latest project, Fields, features all world premiere compositions by Hynes (aka Blood Orange), releasing October 11!
If you weren't a musician, what would you be?
That's quite a difficult question, because I can't really imagine not being a musician J. Thinking back a long time to when I was a kid, I suppose I did have ideas of being a pilot or a doctor. I think perhaps that becoming a veterinarian was my last non-music career idea, but it was so long ago. I started studying piano at age 4, picked up drums and percussion around age 12 and was definitely identifying myself as a "musician" by then. There weren't any other career aspirations after I started my first rock band in middle school, it was all about being a musician.
All that being said, both myself and the rest of my Third Coast bandmates have all been very active as music educators over the years. We've collectively taught music in most every situation: private lessons to students ages early childhood to retirees, public schools, Colleges and conservatories. I was a full-time Professor at Virginia Commonwealth University for 4 years. I imagine that, if I weren't as active a performer as I am currently, I would most definitely be more involved as a teacher.
There are also so many career possibilities involved with the music industry and the larger performing arts world. I just can't imagine a situation where, even if I wasn't performing or teaching music, that I wouldn't be involved in some other administrative or production related aspect of the performing arts.
Was there a formative moment for you as an artist?
Most of my "big artistic growth" moments have involved being exposed to something I had never known before. I remember being a young kid in middle school. I had spent a good chunk of my life up until then studying classical piano and was just getting into drums and diving deep into rock music. My parents gave me a John Coltrane album as a gift. I don't even know why, they weren't jazz fans at all, but I remember playing that tape and my head exploding. I had never heard music like that, it was a musical language I was completely unfamiliar with and, honestly, totally uncomfortable with at the time because it was so out of my stylistic wheelhouse. It made me realize how much more I had to grow, and how much more amazing music there could be out there that I wasn't aware of. I've had similar experiences years later discovering the band Tortoise (a Chicago-based band). They totally turned things around for me at a time when I fancied myself a rock and roll drummer J. Later experiences hearing the music of Steve Reich, George Crumb, so many other gateway composers to the world of contemporary classical music were hugely important to me.
What is your most recent project and what sparked your interest in it?
Our most recent album release with Cedille Records is Fields. All of the music is by Devonté Hynes with additional arranging by myself and the other members of Third Coast Percussion. This was a project that began as a performance program with the world-renowned contemporary dance company Hubbard Street Dance Chicago. We were putting an evening length program together with brand new music and choreography. TCP was looking for a composer to work with and it was one of the choreographers who suggested Hynes, he was a personal friend of theirs.
Devonté Hynes is an extremely talented composer, songwriter, arranger, instrumentalist, artist, and director — an all-around amazing artistic voice. He is most well known as his stage name "Blood Orange." His music is really eclectic, really unique, and it really resonated with all of us at TCP as we began digging through his catalogue of released music. As we got to know him better personally, we also discovered his own love for and experience with contemporary classical music. Most people are used to seeing him play guitar with Blood Orange, but he's also an amazing cellist and pianist. He had recently toured playing the Philip Glass piano etudes, another composer we admire and were currently collaborating with at the time.
There were just so many musical and artistic points of intersection between ourselves and Devonté and he has such a compelling musical voice. He's also, like us, a musical omnivore and draws inspiration from so many musical genres. Combine all that with his personal friendship with one of the choreographers in the project and it just made so much sense to work with him on that project with Hubbard St. Dance.
We put the music together months before we started the workshopping period with the dance company. We had some studio time reserved in the summer of 2018 and were planning on recording some other repertoire, but we were so excited about the music we had from Devonté that we ended up recording it instead. We didn't know when or how it would be released, we just knew that we loved the music. A little while later we brought it to Cedille and they were just as excited as we were. We've released 2 albums with Cedille and it's such an amazing label, we're so excited to be releasing Fields with them this Fall.
What is your dream recording project?
We have a long list of amazing musicians and artists we'd love to collaborate with, but I can honestly say that, at any given time of year, I'm generally most excited about the next project we have in our pipeline.Currently, that next project is with Sergio and Clarice Assad. We've been work-shopping new music with them over the past few months, are touring a program with them after the turn of the new year, and are scheduled to record our next album for Cedille Records with them this Spring. Anyone who is reading this who is not familiar with either Sergio or Clarice should immediately google them, do a deep dive, you will be amazed! That album is going to be incredible, and working with both of them has definitely been a "dream" experience so far.
What makes the Chicago Classical scene unique?
How eclectic it is and the sense of community we all share together in the scene. We have some of the pillars of classical music here like the Chicago Symphony and Lyric Opera, but there's also an amazing chamber music scene, particularly one that focuses on new music. We were cutting our teeth as a group around the same time that other amazing ensembles were getting started — Dal Niente, Spektral Quartet, so many others. Eighth Blackbird was also here and they were so more established back then, they've always been our big brothers and sisters, our role models as we were getting started. All of these groups have been super inspiring to us, and have also been really supportive to us as we've grown from just 4 college students who liked to play music together to a Grammy-winning ensemble that spends 150 days a year touring across the world.
---
Recommended