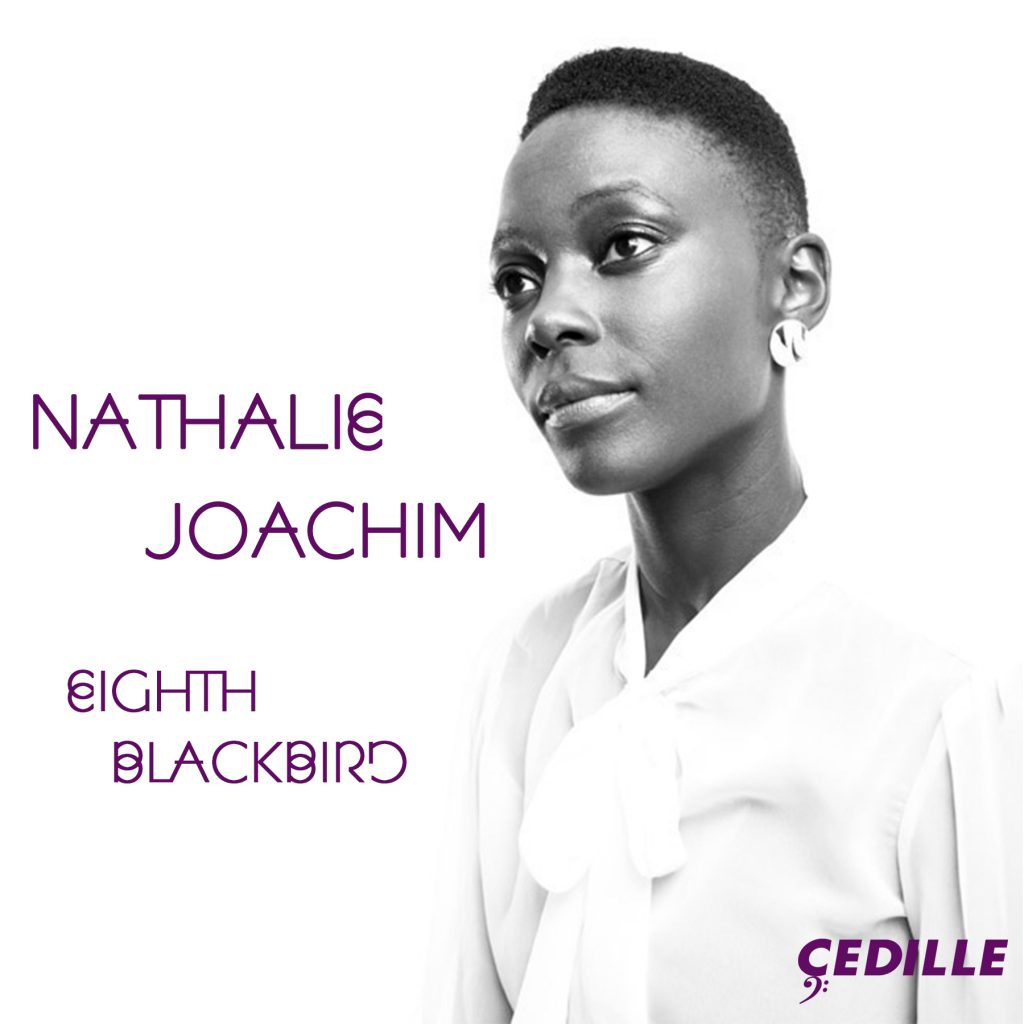 ---
Discover
Featured Playlist: Nathalie Joachim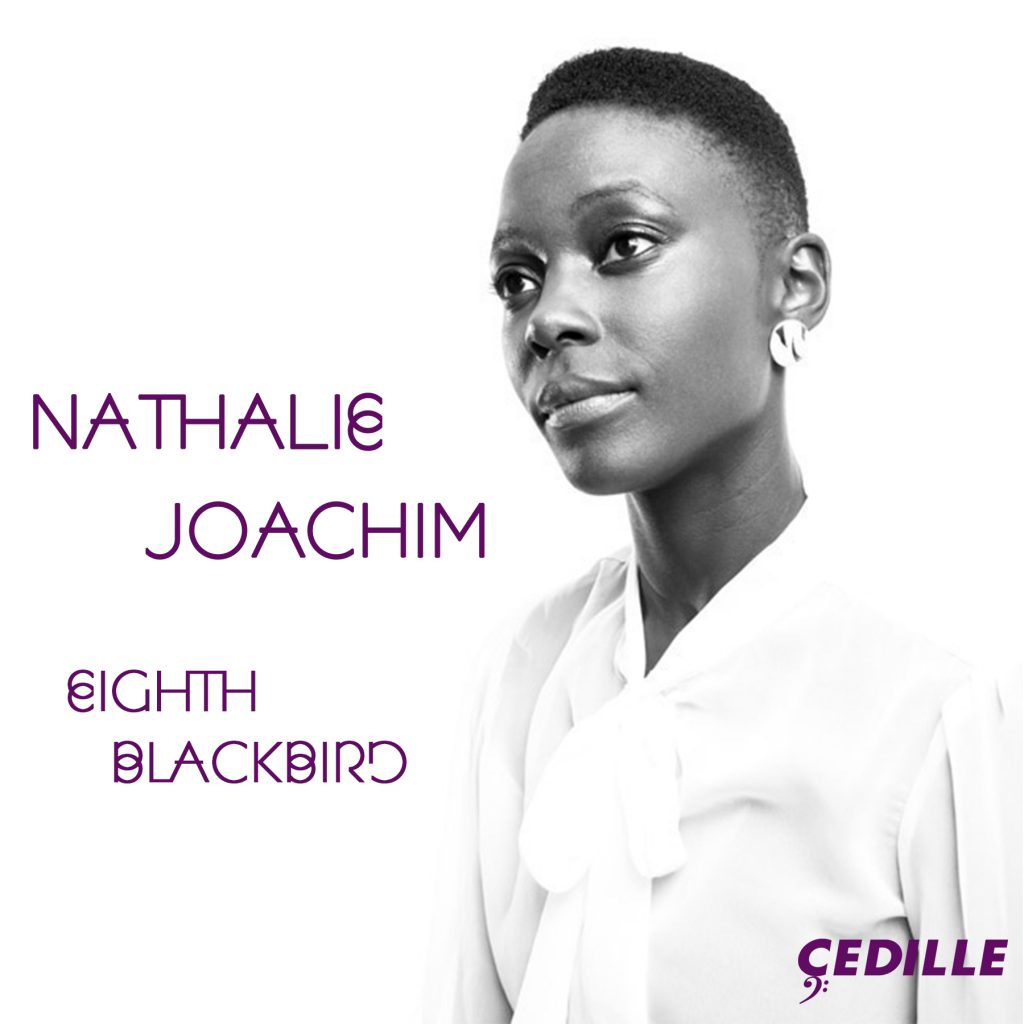 ---
We're excited about Eighth Blackbird's newest album! Olagón: a Cantata in Doublespeak is an innovative collaboration with Irish vocalist Iarla Ó Lionáird, composer/fiddler Dan Trueman, and Pulitzer Prize-winning Irish poet Paul Muldoon that puts a modern twist on the ancient Irish epic Táin Bó Cúailnge. The music is a unique combination of contemporary chamber music, fiddling, and traditional Irish singing that is truly genre-defying — not quite song, not quite modern classical, not quite folk. Eighth Blackbird, called "one of the smartest, most dynamic contemporary classical ensembles on the planet" by the Chicago Tribune, is hardly a stranger to the term "genre-defying." For our November Spotify playlist, 8BB flutist Nathalie Joachim contributed some of the non-classical tunes that inspire and influence her and Eighth Blackbird's cutting-edge performances, recordings, and commissions. Take a listen below and read about why she chose each track! Olagón is available HERE on November 10.
1. "Let Me Fall" by Laura Mvula. I love how Laura is always able to create music with such joy and whimsy. She simply draws the listener into her fantastic world.
2. "The Bird" by Anderson Paak. Anderson's voice and energy reminds me of D'Angelo (who I absolutely adore). They both have killer bands and put out extremely well produced albums.
3. "Cranes in the Sky" by Solange. We just passed the one year anniversary of this album that was near and dear to my heart when it came out. This track is the real gem of the album (expertly co-produced by the legendary Raphael Saddiq, Sir Dylan and Solange herself). Bonus: if you have a chance to watch the music video for it, or better yet see it performed live on tour, I highly recommend it – the art direction is superb!
4. "Don't Bother Calling" by Moses Sumney. This album just came out, and I'm in love. I actually had the great pleasure of meeting Moses when Eighth Blackbird performed at the Eaux Claires festival in 2016. It was a brief encounter, but I remember thinking "this man has a beautiful soul." This album is evidence of that.
5. "Na Ja Balam" by Arooj Aftab. I first stumbled upon Arooj when I heard her perform at a small house concert in NYC. She has the voice of an angel, and blends so many cultural influences into her music seamlessly. This particular track even brings in a 90's London Drum and Bass vibe towards the end, which I have a real soft spot for.
6. "Electric" by Alina Baraz, feat. Khalid. Some people may poke fun at my liking this artist, but I have soft spot for her. And I'm admittedly a sucker for a slow jam, so…I don't mind proudly saying that I really enjoy this new track, and stand by my endorsement of it, LOL!
7. "Your Life is a Lie" by Olga Bell. Speaking of the 90's, I remember when Olga was working on this album and I asked her to tell me a bit about it. Her response was "it's basically a 90's dance album. " I love her subtle deconstruction of the genre on this track.
8. "Papa Loko" by Toto Bissainthe. My family is from Haiti, and I'm in the midst of writing an evening length work called "Fanm d'Ayiti" (Women of Haiti) commissioned by St. Paul Chamber Orchestra's Liquid Music series (premiering March 14, 2018). I've been steeped in Haitian music for the past year and a half. Toto is definitely my muse for the project, and this song was a big inspiration behind it all.
9. "Afterglow" by José Gonzalez. I first heard José live in a gorgeous cathedral in Chicago performing with our friends in yMusic. When he sang this song live, it was transcendent and I haven't been able to stop listening to it since!
10. "Low Tides" by Little Simz. I learned about Little Simz via Gilles Peterson's radio show (a must listen if you haven't tuned into it). I think she's one of the most talented and promising young female MCs I've heard in a very long time.
11. "15th St." by Shlohmo. This is one of a series of previously unreleased tracks by Shlohmo. I'm a big fan of his use of found sounds here – a bit of an homage to some of his earlier work.
12. "Unbound" by Ásgeir. There is just something about Ásgeir's music that is so familiar yet fresh at the same time. This is the kind of track you want to turn up during a long drive on a gorgeous day.
13. "Horn of the Clock-Bike" by Saul Williams. Saul is such an important artist in my opinion. He's a poet, activist, writer and musician, and does all of those things very well. I think history will remember him and his work fondly. This track is one of many stunners on the album.
14. "the gate" by Björk. I love everything that this woman does. That's really all that needs to be said.
---
Recommended