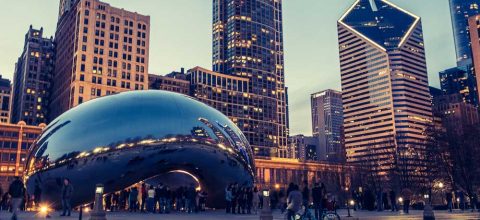 ---
Discover
Chicago: A Center of Classical Music
Cedille helps to ensure the city's time-honored classical music tradition thrives and is recognized.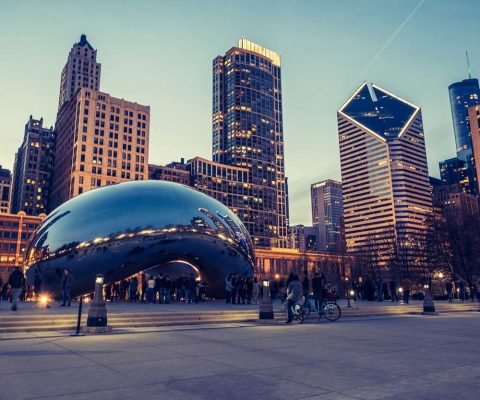 ---
Classical music in Chicago has enjoyed an astonishing vibrancy. A stirring of local musical consciousness began with the city's incorporation in the 1830s as amateur musicians, including some of Chicago's most notable forefathers like John Kinzie, who played violin, formed performing groups and encouraged inclusion of classical music in public schools.
Chicago heard its first complete symphony in 1853, when the Germania Orchestra performed Beethoven's Second. By 1865, Chicago had a first-rate music venue, the elegant Crosby Opera House. Two years later, Maestro Theodore Thomas and his orchestra were gaining fame, and 1890 saw the formation of the Chicago Symphony Orchestra, which played its initial concert under Thomas in 1891. Opera was heard locally in 1850 and, by 1910, began to achieve international prominence with Chicago Grand Opera. Lyric Opera of Chicago was born in 1954, residing in Samuel Insull's stunning deco-inspired Civic Opera House.
In that same decade, Chicago-based Mercury Records made a formidable impact with their famous "Living Presence" series. Although Mercury may have been in Chicago, the company was never about Chicago—local artists were rarely found in their extensive catalog. Therein lies a tale of entrepreneurial acumen and artistic excellence.
And the rest, as the saying goes, is history.
Creating a Home for Local Artists
In 1989, James Ginsburg founded Cedille Records. A native New Yorker who came to the Windy City for undergraduate (and later law) study at the University of Chicago, Ginsburg grew up surrounded by music. He began collecting classical recordings at age 7. An internship at Nonesuch Records and a productive tenure as the Shostakovich specialist for American Record Guide had taught him a thing or two about well-mastered classical recordings. He also noticed something disturbing.
"If I'd go to a concert in New York by a local artist," Ginsburg says, "I could go to Tower Records and buy recordings by that artist. But in Chicago, I would hear a concert involving a local soloist or ensemble, and I would go to Rose Records to look for their recordings and there were none to be found. This was the 1980s and pretty much the only classical recording activity in Chicago was the Chicago Symphony Orchestra with Sir Georg Solti. I thought, wow, somebody should be recording these artists. Why not me?"
Ginsburg immediately thought of the celebrated Russian pianist Dmitry Paperno, who had recorded for the Soviet label Melodiya before immigrating to the U.S. in 1977. Paperno was nonpareil among Chicago's classical music artists, but after recording two albums for Musical Heritage Society in the late '70s, his recording activity stalled—basically because of the cliché that nobody asked him.
"So, I asked," quips Ginsburg. And Cedille Records was born.
Building on Three Decades of Success
Now, 30 years and almost 200 recordings, six Grammy Awards and 18 Grammy nominations later, including one for Ginsburg himself as Producer of the Year for 2019, nonprofit Cedille is well established not only as one of America's premier classical music recording companies, but as the only one devoted to artists and composers from the Chicago classical music community. Cedille's roster includes such luminaries as violinists Rachel Barton Pine and Jennifer Koh, pianist Jorge Federico Osorio, Eighth Blackbird, the Pacifica Quartet, Third Coast Percussion, and the Chicago Sinfonietta. And, yes, even the Chicago Symphony Orchestra pops up on a release or two.
Ginsburg's assessment of Cedille's success is revealing.
"In the beginning, I was excited to give a platform to Chicago artists and bring out some great repertoire," he says. "I am proud that we have over 300 world premieres on the label at this point. But what has become the greater definition of our success is how much we have been able to promote the careers of the artists. We have helped develop Chicago's reputation. Now other record labels come to record Chicago artists. That's the great thing: that many have realized what a vibrant classical music scene Chicago is beyond Chicago Symphony Orchestra and Lyric Opera, through us. That is very gratifying."
Today, a review of the Chicago classical music scene reveals a dizzying array of world-class artists who delight audiences through performances of everything from a pitch-perfect early music repertoire to edgy contemporary fare.
"I'm glad I realized I liked producing records more than going to law school!" Ginsburg jokes.
Classical music lovers are too.
---
Recommended