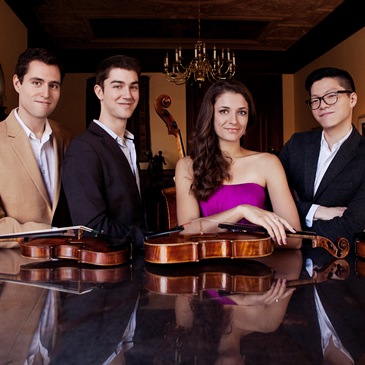 ---
Discover
Cedille's Take 5: Dover Quartet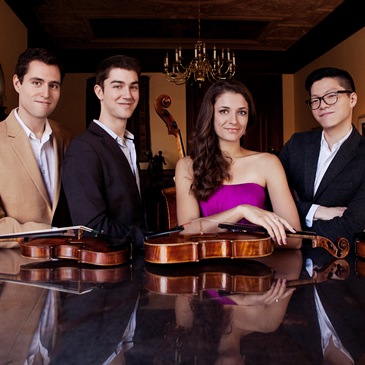 ---
This edition of Take 5 features an interview with the members of the Dover Quartet. Called "the young American string quartet of the moment" (The New Yorker), the ensemble will make its recording debut with an all-Mozart album on Cedille Records honoring the soaring young ensemble's illustrious teachers and coaches, the Guarneri Quartet. Tribute: Dover Quartet Plays Mozart recalls the Guarneri's own all-Mozart debut album on RCA Red Seal 50 years ago (1966), which  featured Mozart's final two string quartets — in B-Flat, K. 589, and F, K. 590. The Dover's album on Cedille adds Mozart's Quintet in C Minor, K. 406, performed with none other than Michael Tree, the Guarneri's founding violist and one of the Dover's most valued mentors. The Chicago Tribune  proclaimed, "The Dover Quartet players have it in them to become the next Guarneri String Quartet — they're that good," citing the group's "expert musicianship, razor-sharp ensemble, deep musical feeling and a palpable commitment to communication." Formed in 2008 at Philadelphia's Curtis Institute of Music and recently appointed as faculty quartet in residence at Northwestern University's Bienen School of Music, the Dover Quartet has won multiple awards, including the Grand Prize and all three Special Prizes at the 2013 Banff International String Quartet Competition and the Cleveland Quartet Award in 2015.
1) What is your most recent project and what sparked your interest in it?
We recorded an album of all World War II music last spring, and the project was very close to our hearts. Two of the quartets we recorded (by Victor Ullman and Szymon Laks, respectively) are not only inextricably and painfully linked to the events of the Holocaust, but some of the finest string quartets we've heard; we're honored at the opportunity to share them with audiences who have not yet heard these great works. -Camden Shaw, cello
2) If you weren't a musician, what would you be?
If I weren't a musician, I'd either be a violin maker or a boat designer. Oddly, these two jobs are quite similar; there's a tremendous amount of mathematics and geometry involved, but in both cases the human sense of beauty is what interacts with the complex mathematics and so the processes are quite artistic. -Camden Shaw
3) Was there a formative moment for you as an artist?
It's hard to pinpoint just one moment but I do think that my acceptance into the Curtis Institute of Music (and subsequent time spent there) was crucial for my development as a musician and as a person. I grew up in the Philadelphia area so I went to many Curtis concerts as a young kid and often dreamt about one day auditioning for the school and (hopefully) getting accepted. It was also the place where the quartet formed so it has a special meaning for all of us. -Bryan Lee, violin

4) What album/band are you listening to right now?
The album is called "The Duke: The Columbia Years" and is Duke Ellington and his band from 1927-1962. I just love the soul and personality in old-school jazz! -Milena Pajaro-van-de-Stadt, viola
5) What makes the Chicago classical music scene unique?
Chicago is an artistically rich city to which other cities could look as an inspirational role model. Its classical music scene certainly maintains its own individual identity; it is incredibly well rounded, with many important organizations spread all throughout the Chicagoland area. There is also a strong support system for talented young musicians, from distinguished pedagogues to illustrious youth orchestras and summer festivals. It's an inspiring city for musicians!  -Joel Link, violin
---
Recommended