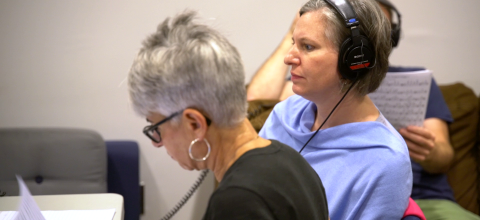 ---
Discover
Cedille's recordings are a part of your legacy of support!
---
Recordings are the musical legacy of Cedille's artists. Their body of work, represented by concert performances and recordings, defines their contribution to music history. Your support of Cedille makes these recordings possible. Thus, Cedille's recordings are part of your legacy too!
Cedille Records has released the world-premiere recording of over 400 compositions. This means that, because of Cedille, you can experience world-class performances of more than 400 works (new and historic) in professionally produced, audiophile recordings simply by popping in a CD or streaming the piece online. That kind of exposure and promotion is vital to composers and performers. Other performers and industry representatives will then reference these premiere performances.
In its 30+ year history, Cedille Records has promoted the work of over 180 distinct artists and ensembles and released more than 200 recordings. Your gifts, now and in the future, will further these efforts for current artists and composers, and those to come.
The Martin D. Ginsburg Society, named for Cedille's first Board Chair, honors Marty and others who have elected to include Cedille in their estate plans and leave a legacy. Please consider joining the Society to show your ongoing support of Cedille's mission.
To learn more about the Martin D. Ginsburg Society and how you can support Cedille now and beyond your lifetime, contact Julie Polanski
(773) 989-2518 julie@cedillerecords.org
---
Recommended