---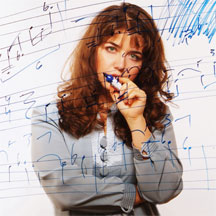 Artists
Lera Auerbach
Composer & Piano
---
Virtuoso pianist and composer Lera Auerbach is one of today's most sought after and exciting creative voices. Her boldly imaginative and evocative compositions are championed by today's leading musicians, conductors, choreographers, and opera houses. Ms. Auerbach's uniquely personal interpretations of the standard keyboard repertoire are making her a favorite of audiences worldwide. She regularly appears as soloist in the world's great halls, and her published oeuvre includes more than 90 works of opera, ballet, symphonic and chamber music. Her creative output is interdisciplinary and encompasses music, literature, and visual art. She has published three volumes of poetry and prose in Russian, contributes regularly to the Best American Poetry blog, writes her own librettos, and has recently been working on a series of gesamtkunstwerk (total work of art) installations.
Recent theater performances have included Préludes CV, a full-length ballet based on Lera Auerbach's 24 Preludes for violoncello and piano and 24 Preludes for violin and piano (Hamburg State Ballet) and the world premieres of Faust (Staatstheater Nürnberg, with choreography by Goyo Montero, featuring Lera Auerbach as pianist on stage). In April 2013, her ballet Heroes (Bavarian State Ballet) receives its world premiere. Her full-length ballet The Little Mermaid, winner of the 2012 ECHO Klassik award, has already received over 150 performances worldwide including at the National Ballet of China in Beijing, the Hamburg Ballet, and the Stanislavsky Theatre in Moscow. Auerbach has also recently collaborated with the Netherlands Dance Theatre, National Ballet of Canada, and Nuremberg State Ballet, as well as the Chinese, Flanders, and Finnish National Ballets. Other recent premieres and commissions include works for violist Kim Kashkashian, New Century Chamber Orchestra, Raschér Saxophone Quartet, and for the Tokyo, Borromeo, and Ying String Quartets.
Auerbach's other career highlights include the critically acclaimed premiere full-scale opera, Gogol, based on her original stage play, commissioned by Vienna's Theater an der Wien and premiered in November 2011. Her residency with the Staatskapelle Dresden in 2011–2012 featured world premieres of Requiem—Ode to Peace (Vladimir Jurowski, conductor), and Post Silentium (Sakari Oramo, conductor). Auerbach's groundbreaking a-capella opera The Blind received its world premiere in October 2011 at the Konzerthaus Berlin with the Berliner Kammeroper and Vocalconsort Berlin as well as a 2012 performance with Stanislavsky Theatre in Moscow.
Lera Auerbach's music has been performed by the New York Philharmonic, National Symphony Orchestra, Tokyo Philharmonic, Orchestra Ensemble Kanazawa, Staatskapelle Dresden, Dresdner Philharmoniker, NDR Radiophilharmonie Hannover, Bamberger Symphoniker, and Radio-Sinfonieorchester Stuttgart, among others, and by such choruses as St. Thomas Boys Choir in New York, St. Paul's Cathedral Boys Choir, Estonian Opera Boys Choir, the Latvian National Choir, and Vienna's Arnold Schoenberg Choir. She regularly collaborates with violinists Gidon Kremer, Leonidas Kavakos, Hilary Hahn, Vadim Gluzman, and Julian Rachlin; cellists Alisa Weilerstein, David Finckel, Gautier Capuçon, and Ani Aznavoorian; violist Kim Kashkashian; and the Tokyo, Borromeo, Artemis, and Jasper string quartets.
Auerbach has been Composer-in-Residence at various international music festivals, including the Marlboro Music Festival, Verbier Festival, Musikfest Bremen, the Pacific Music Festival, Kammermusikfest Lockenhaus, and Les Muséiques Festival. She has also written works for the Schleswig-Holstein Music Festival, Caramoor Music Festival, Tucson Winter Chamber Music Festival, Lucerne Festival, Lincoln Center's White Light Festival, and the Chamber Music Society of Lincoln Center. Auerbach also served as Artist-in-Residence with the Deutschlandfunk Radio.
Lera Auerbach was born in the city of Chelyabinsk at the gateway to Siberia. After writing her first opera at the age of twelve, she was invited for a concert tour to the United States in 1991, where she stayed to continue her studies in piano and composition at the Juilliard School. Auerbach has been awarded the prestigious Hindemith Prize by the Schleswig-Holstein Musik Festival in Germany, and Deutschlandfunk's Förderpreis. She recieved a Paul and Daisy Soros Fellowship and was recently selected as a Young Global Leader by the World Economic Forum in Davos, Switzerland. Bidding a fond farewell to her tenure as Composer-in-Residence of the Staatskapelle Dresden, Ms. Auerbach next served as Artist-in-Residence for BASF's highly regarded "Kunst und Kultur" program. She has also been resident composer of the New Century Chamber Orchestra, the Sao Paolo Symphony Orchestra, the Marlboro Music Festival in Vermont, and the International Verbier Festival.