---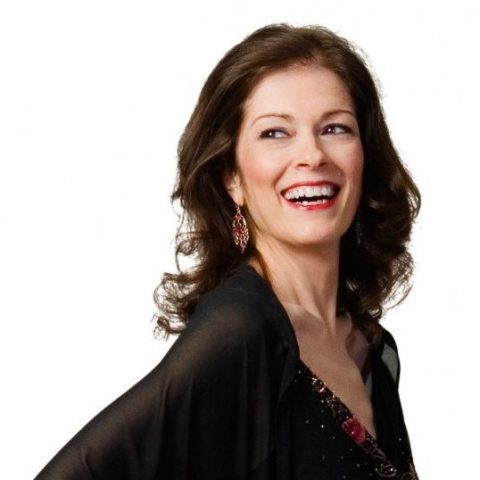 Artists
Jennifer Larmore
Mezzo Soprano
Mezzo-soprano Jennifer Larmore is particularly noted for her performances in coloratura and bel canto roles, which she has performed in the world's major opera houses.
---
A leading exponent of the coloratura roles of the Baroque and bel canto eras, the outstanding American mezzo-soprano Jennifer Larmore has also won widespread acclaim for her performances of Romantic and Contemporary repertoire.
Originally from Atlanta, Ms. Larmore studied at the Westminster Choir College of Princeton, New Jersey, and then privately with John Bullock and Regina Resnik. In 1986, she made her professional debut in the Opera de Nice's production of Mozart's La Clemenza di Tito. During the same period, Ms. Larmore sang her first Rosina in the Barber of Seville in Strasbourg. Rosina would become her signature role — one she has now performed over five hundred times.
Ms. Larmore's vocal talents, energetic acting, and natural beauty quickly established her as an emerging star, as she went on to perform dozens of leading roles with important European houses including the major theaters of Paris, Vienna, London, Edinburgh, Rome, Berlin, Madrid, Barcelona, Lisbon, Brussels, Amsterdam, Milan, and Salzburg.
In 1994, Ms. Larmore returned to the United States in a triumphant Carnegie Hall appearance as Romeo in Bellini's I Capuletti e I Montecchi. She followed this success by winning the prestigious Richard Tucker Award and making her Metropolitan Opera debut as Rosina in 1995. Since then, Ms. Larmore has been a regular attraction at the Met, singing leading roles in numerous operas including Handel's Giulio Cesare; Rossini's Il Barbiere di Siviglia, La Cenerentola, andl'Italiana in Algeri; Offenbach's Les contes d'Hoffmann; Strauss's Die Fledermaus; Humperdinck's Hansel and Gretel; and the world premiere of Tobias Picker's An American Tragedy.
With her frequent collaborator, pianist Antoine Palloc, she has performed recitals in Amsterdam, Paris, Madrid, Hong Kong, Seoul, Tokyo, Vienna, London, San Juan, Prague, Melbourne, Brussels, Berlin, Rio de Janeiro, Lisbon, Sao Paolo, Athens, and Copenhagen, as well as all the major American venues.
Symphonic repertoire plays a large role in Ms. Larmore's career. Most notable in her repertoire are the works of Mahler, Schoenberg, Mozart, de Falla, Debussy, Berlioz, and Barber. She has performed with major orchestras around the world, collaborating with leading conductors including Riccardo Muti, Jesús López-Cobos, Leonard Bernstein, Donald Runnicles, Giuseppi Sinopoli, Kurt Masur, Christoph von Dohnányi, René Jacobs, Charles Mackerras, Jean-Christophe Spinosi, Marco Guidarini, Carlos Kalmar, Julius Rudel, Daniel Barenboim, Eve Queler, Richard Bonynge, Lorin Maazel, Seiji Ozawa, and many others.
Ms. Larmore has recorded over seventy CDs for the Teldec, RCA, Harmonia Mundi, Deutsch Grammophon, Arabesque, Opera Rara, Bayer, Naive, Chandos, and VAI labels, making her the most recorded mezzo-soprano of all time. Her Giulio Cesare on Harmonia Mundi received the 1992 Gramophone Award in the Baroque Vocal category. She has earned seven Grammy nominations over the years for: L'Etoile, a collection of French opera arias; Call Me Mister, a celebration of mezzo-soprano "trouser" roles; Amore per Rossini, a trove of Rossini rarities, some never before recorded; My Native Land, a gathering of songs by American composers;Where Shall I Fly, featuring Handel and Mozart arias; Bravura Diva, a collection of rare bel canto masterworks; Jennifer Larmore in Performance, a companion CD to the popular DVD from Video Artists International (VAI); Jennifer Larmore, A Portrait, a collection of early works from the Renaissance and Baroque periods; andBorn In Atlanta, a CD of varied operatic and concert selections released to commemorate Ms. Larmore's appearance at the Closing Ceremonies of the 1996 Atlanta Olympic games. Ms. Larmore's many operatic recordings include the title roles in Bizet's Carmen; Rossini's Elisabetta, Regina d'Inghilterra, La Cenerentola, L'Italiana in Algeri, and Bianca e Falliero; Gluck's Orphée; Handel's Giulio Cesare; Paer's Sofanisba; and Bellini's I Capuletti e I Montecchi.
In 2002, Ms. Larmore was endowed with Knighthood by the French Government, gaining the title "Chevalier des arts et des lettres" in recognition of her contributions to the world of music.
In her humanitarian efforts, Ms. Larmore's charity of choice has been the American Fund for UNICEF. Her desire is to raise awareness of the plight of underprivileged children, and she often speaks and sings for this worthy cause. In addition to her many activities, travels, performances, and causes, Jennifer Larmore is currently working on books designed to help bring a wider public to the love of opera.