---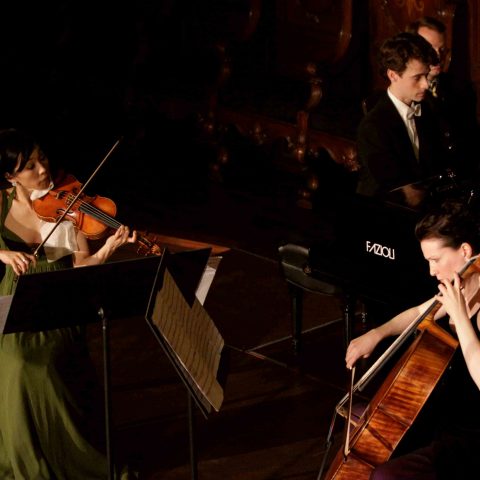 Artists
Beethoven Project Trio
An American piano trio formed in Chicago in 2008 to give a concert of Beethoven world and American premieres. Members are pianist George Lepauw, violinist Sang Mee Lee, and cellist Wendy Warner.
---
Founded in 2008, the Beethoven Project Trio has already made a mark as one of the most interesting and dynamic chamber groups launched in the last few years. The ensemble has been featured in newspapers and magazines, on television and radio, and on countless Internet sites. Coverage seen by millions of people around the world has included stories in the Rheinische Merkur, Atlantic Times, Chicago Tribune, Asia Times, Associated Press, and Newsweek Korea; broadcasts from CBS Evening News and CNN to American Public Media's Performance Today and Chicago's WFMT Radio; Internet coverage on Yahoo!News and AOL; and recognition through many other outlets.
Veteran Chicago Tribune music critic John von Rhein declared, "pianist George Lepauw, violinist Sang Mee Lee and cellist Wendy Warner made a splendid ensemble, playing with finely judged balance, evenness of sound and unanimity of style," adding in another review that "vigor, commitment, and spontaneity marked everything this 'stellar Chicago trio' played."
The goals of the Beethoven Project Trio are to bring a new vitality to the performance of Beethoven's trios, to shed new light on the piano trio as a musical form by commissioning new works, and to excite and educate audiences in concert halls, schools, and places where great music is not always heard.
The Beethoven Project Trio's repertoire encompasses the complete piano trios of Beethoven, including the Triple Concerto, and keeps growing with the addition of new commissions as well as some of the trios by Haydn, Mozart, Schubert and Brahms, to provide historical context around Beethoven's creative approach to trio writing.
The Beethoven Project Trio tops its 2009–2010 season with its New York debut at Lincoln Center's Alice Tully Hall. The Trio embarks on its first international tours, from South America to Asia and Europe, in the 2010–2011 season.
Emmy-Award winner Mike Cahill is currently making a documentary to tell the story of how the pieces on this disc came to be rediscovered and premiered over two hundred years after their composition. It shows the Beethoven Project Trio in the recording process as well as in performance, giving a better understanding of how chamber music is prepared and performed, with the addition of interviews with the musicians and many other key figures in the project. The full-length feature is slated for 2011 release.
http://internationalbeethovenproject.com