Store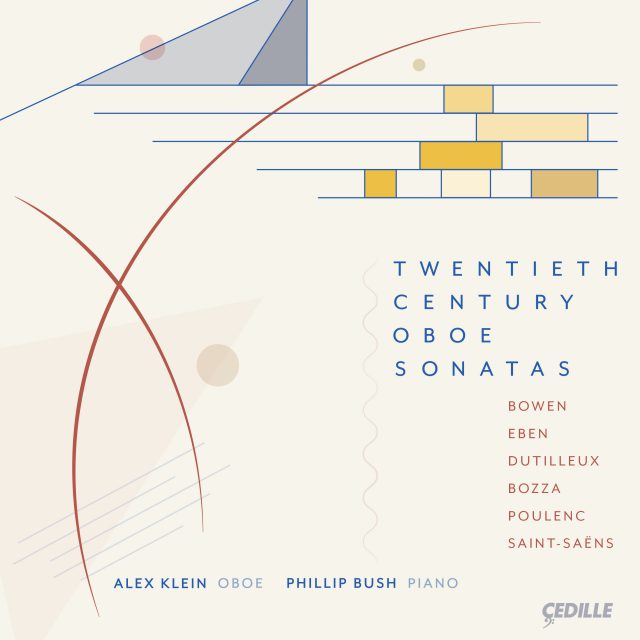 Store
Twentieth Century Oboe Sonatas
---
Grammy Award-winner Alex Klein, former principal oboist of the Chicago Symphony Orchestra, performs sonatas that signify the oboe's 20th-century reemergence as a brilliant solo instrument. One of the world's most famous oboe players, Klein says he waited to acquire a professional lifetime's worth of experience before putting his stamp on the six sonatas heard here.
With pianist Phillip Bush, Klein plays works that he says "define the modern oboe": Camille Saint-Saëns' jovial, late-Romantic Sonata for Oboe and Piano, Op. 166; York Bowen's lushly beautiful Sonata for Oboe and Pianoforte, Op. 85; Henri Dutilleux's emotionally wide-ranging Sonata for Oboe and Piano; Petr Eben's youthful, inventive Oboe Sonata, Op.1; Francis Poulenc's late, philosophical Sonata for Oboe and Piano, FP 185; and Eugène Bozza's Sonata for Oboe and Piano, an ethereal, rarely heard tour de force.
Klein possesses a "tone so unique and beautiful that musicians from around the globe would flock to [Chicago's] Symphony Center to hear him play" (Chicago Magazine). He won a Grammy Award in 2002 for Best Instrumental Solo Performance (with Orchestra) for his recording of Richard Strauss's oboe concerto with conductor Daniel Barenboim and the Chicago Symphony Orchestra (Teldec). His Cedille Records discography includes Baroque, Classical, Romantic, 20th Century, and contemporary oboe works. Gramophone's review of Klein's Vivaldi Oboe Concertos album proclaimed, "it's possible to listen to this recording repeatedly and rarely take your ears away from Klein, who dispenses melodies with musical charm and technical requirements with effortless grace."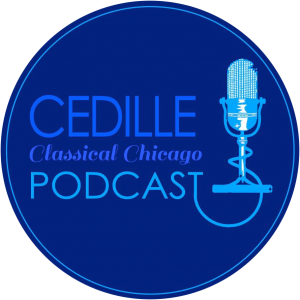 Listen to Jim Ginsburg's interview
with Alex Klein on Cedille's
Classical Chicago Podcast
Preview Excerpts
Enjoy our recommended preview track excerpts below
YORK BOWEN (1884-1961)
Sonata for Oboe and Pianoforte, Op. 85
3
III. Finale: Allegro giocoso
PETR EBEN (1929-2007)
4
I. Militare: Allegro risoluto
5
II. Pastorale: Andante cantabile
HENRI DUTILLEUX (1916-2013)
Sonata for Oboe and Piano
EUGENE BOZZA (1905-1991)
Sonata for Oboe and Piano
12
III. Extrêmement tendre, expressif
FRANCIS POULENC (1889-1963)
Sonata for Oboe and Piano, FP 185
16
III. Déploration: Très calme
CAMILLE SANT-SAËNS (1835-1921)
Sonata for Oboe and Piano, Op. 166
18
II. ad libitum – Allegretto – ad libitum
Artists
What the Critics Are Saying
---
---
"The disc offers fine playing indeed; and, most of all, interpretations of the highest musical integrity caught in superb sound. He is fortunate, also, to have such a fine musical partner as Phillip Bush."
"A delicious tour de force that shows Klein at his best."
"This recital is important and necessary. If another Grammy doesn't find its way into Klein's hands, there is just no justice in the world."
Twentieth Century Oboe Sonatas
Notes by Leon Shernoff
This is an album I've wanted to do all life: to go on the record (so to speak) with the pieces that are the meat and potatoes of oboe playing, plus a few more that are personally important to me. It is a pleasure and an honor to make such a musical statement. They are all part of my personal history of oboe playing, a history where I now have more years behind than in front. I find myself in the Eben, which is part of my youth. And like Poulenc when he wrote his Sonata, I too am facing mortality. The Saint-Saëns and the Poulenc are really the core of the oboe recital repertoire, but I'm also really in love with the other pieces here. The Bozza is wild and free and engaging. It runs from an incredible depth of musicality to torrid technical display. The Dutilleux is some of the most driven and energetic music that's been written for the instrument. And the Bowen is such a delight; all three movements are right up there with best music an oboe player can play.
I have a certain nostalgia besides the one caused by age: focal dystonia brought a significant burden to my life and led me to rebuild my playing. Still, I don't know how long I have left to play oboe. This recording has more to do with closing than anticipating ambitious projects for the future. This may well be one of my last oboe statements.
York Bowen: Sonata for Oboe and Pianoforte, Op. 85 (1927)
York Bowen was a British composer active in the late 1800s and early 1900s. Bowen was also a famous pianist, and it shows in his fluid and graceful piano writing.
In the first movement of his oboe sonata (Allegretto grazioso), Bowen has written the most Debussy-esque piece on this CD — not only in his harmonies and textures, but also in his handling of themes. As with Debussy, his melodies have a natural ebb and flow to them, and they seem to repeat, waxing and waning, until they build up enough momentum to overflow their boundaries and pour onward to the next part of the piece. The oboe, meanwhile, luxuriates in a tremendous variety of ways of moving about — between registers, between harmonies — with its speed of motion waxing and waning along with the themes.
The central slow movement (Andantino espressivo) evokes older composers, albeit still in a very French and atmospheric way: Fauré in a somber mood, with perhaps a bit of the Chopin E-minor prelude. It gets a bit more Debussy-ish in the middle section, though, before returning to the opening material.
The last movement (simply called Finale) is a jaunty romp that takes the initial motif of the first movement's theme and makes it into a rhythmic cell that takes off under its own direction.
If the oboe was surfing the waves of the piano part in the first movement, here it does a more sprightly dance on a more solid but smaller and quicker support, as if leaping from tussock to tussock. The interlude from the previous section makes an appearance for a while, and much of the middle of the movement is something of a struggle, with the perky new theme periodically asserting itself but often being "infected" by the more somber harmonies of the secondary theme. Exuberance wins out in the end, however, and the new melody enthusiastically claims the movement for its own mood in the last 20 seconds of the piece.
Petr Eben: Oboe Sonata, Op. 1 (1950)
Petr Eben spent much of his life in trouble over religion — first from the Nazis over his Jewish father, and then from the communist Czechoslovakian government over his Catholicism. Thus, he had almost no professional opportunities until the Velvet Revolution of 1989, when he was made President of the Prague Spring Music Festival, where a young Alex Klein came to play the oboe.
When Alex was accepted to the festival, he asked them to send him some Czech oboe music, and they obliged with this sonata and one by Klement Slavicky. He played the Slavicky at the festival, winning the prize for best interpreter of Czech music, "but the Eben has remained a symbol of my roving youth ever since."
The Sonata is itself a work of Eben's youth — his Opus 1, written in 1950 when he was 21. The first movement, marked Militare – Allegro risoluto, has a forthright, energetic character, but wanders from beginning to end, never arriving at any definite point. Perhaps it depicts Eben's experience of the military.
The second movement, Pastorale – Andante cantabile, again takes us into pastoral territory. Alex calls the movement the most oboistic music on this CD. But this is a landscape tinged with sadness: the initial major chord comes with an added major seventh, giving it an embedded minor chord on top.
This theme also does a lot of roaming; but unlike the "military" one from the first movement, it achieves stability in a resounding climax near the halfway mark. This doesn't last, though. Although the oboe holds its ground, eventually repeating just a single minor third over and over, the chords shift out from it, and the piano eventually drops out entirely, leaving it all alone. The oboe doesn't give up, however, and repeats a new figure as the piano tries out different harmonies, eventually arriving on another big climax. This time it is stable and ends the movement, except that at the very end, the oboe rises a fifth, restoring the "sad" harmony from the movement's beginning.
The third movement is marked Ballabile – Presto. A ballabile is a piece in a ballet where the whole ensemble dances. Perhaps in contrast to the singular ideas of the earlier movements, this one is about the fullness of life. There is a great variety of material: from Bartókian ostinati to free, solo cadenzas. When the peppy original melody returns triumphantly near the end­­, the momentum is not spent, nor has the kaleidoscope ceased turning, and the music piles into a rowdy, tumultuous finale.
Henri Dutilleux: Sonata for Oboe and Piano (1947)
Alex says, "Like the Poulenc, I consider the Dutilleux impossible, because what the composers have requested really cannot be done: neither the dynamics, expression, or technical requirements. So in order to do them, I have to reinvent the oboe, creating new fingerings, and working with the reed to create the dynamics requested."
Dutilleux clearly listened to a lot of jazz: as you can hear, this sonata starts out with a fairly standard walking bass, to which he adds other voices in loose canon. Where Dutilleux does "French" stuff, it is more reminiscent of Messiaen, as when he juxtaposes major chords that are a minor third apart, something he does over and over while the oboe holds its altissimo F near the end of the movement.
The second movement, Scherzo, plays typically Bartókian games of a repeated rhythmic cell over a frequently percussive piano part. It builds into a lushly-scored appearance of the main theme from the third movement, which leads directly into the reappearance of the main theme of the first movement. This dies down and away, more or less reversing the process by which it appeared at the beginning of the piece (a formalism of which Dutilleux was fond).
As Alex remarks, this sonata is actually two pieces — movements one and two go together, "and it should really stop right there. Movement three is added on, and is quite different."
It is indeed a different world, of naïve tonality, with a theme that would seem unusually child-like even in Mozart's hands. This is not to say that Dutilleux always treats it naively. Early in the movement, for example, he runs it through a series of very clear but very abrupt key changes that are more characteristic of Poulenc than of any other French composer.
About halfway in, Dutilleux lands on an ostinato that is quite reminiscent of the second movement and builds it until he arrives at a massively-scored version of the naïve theme. This section winds down as it repeats bits of the theme in abruptly different keys, finally landing on a full reappearance of the naïve version of the theme and ending with a brief stretto.
Eugène Bozza: Sonata for Oboe and Piano (1971)
Eugène Bozza was a prolific composer for much of the 20th century, known mostly for light, virtuosic works for wind instruments with piano accompaniment. He is well acquainted with the idea of the shepherd oboist: his catalog contains thirteen pieces for oboe, either alone or with piano (spanning 1939 to 1979!), and four of these have "pastorale" in their title.
The first movement evokes the pastoral setting via tropes heard in other works here. The piano plays large, soft chords that are held for a long time. He has not written these as traditional triads —instead, they are stacks of fifths that evoke the sound of distant bells in a vast, open landscape. Alex says he loves the freedom this gives him to float over the harmonies.
It is in something that might be called "extended binary" form. Binary form is commonly used by Bach: there is an A section and then a following section that does many of the same things, but a little differently. It is often notated as A – A1. This movement is in a form that might be notated as A – A1 – A2 – A3 – A4 etc. It provides cohesion but also a certain lassitude — nothing ever troubles or challenges the original version enough for it to change. Perfect for a shepherd on a warm summer day.
The second movement is flowing, and cute. It ebbs and flows perpetually and quickly, like a child who wants to tell you a secret but is too shy. It evaporates beautifully at the end, but then hits you with one last bang.
The third movement shows that Bozza has learned his Messiaen. The harmonies, especially in the piano introduction, could have come straight out of the Quartet for the End of Time. But the oboe writing feels a bit constrained when it conforms to Messiaen-style rhythms, and soon slides out of them into some gloriously expressive 19th-century style stuff. The austerity of Messiaen's style makes its return, and the wide-open expressive character of the contrasting material gives this movement a flavor not often found in Bozza's music.
The last movement is full of bubbling, banging energy that owes more to Prokofiev than anyone else. As with the Bowen finale, the oboe ably and agilely hops and jumps among passagework that would undo a lesser oboist. It finishes with a dramatic flourish, perfectly appropriate for such a tour de force.
Francis Poulenc: Sonata for Oboe and Piano, FP 185 (1962)
The Poulenc oboe sonata starts off the same way as the Stravinsky violin concerto. Poulenc duplicates the main theme Stravinsky's concerto, even down to the steady eight-note accompaniment and the underlying harmony. But the mood is changed utterly: the Stravinsky chugs along optimistically over peppy, staccato notes, while the Poulenc floats along dreamily over a soft, pedaled piano.
The sonata is dedicated to the memory of Prokofiev — somewhat belatedly, since he had died ten years before. Stravinsky and Prokofiev had feuded, quite violently; and although they eventually made up, perhaps their juxtaposition here is something of a reminder that we all come to the same end. Both Russians, moreover, were known for music with great rhythmic impetus, something this sonata deflates from its very beginning.
The more agitated secondary themes of the first movement's middle section are quite diverse; but they share the rhythmic profile of a held note followed by short notes, a pattern that is then repeated. This gives them a certain cohesion while maintaining variety. This also makes them something of a rhythmic inversion of the main theme, which consists of quick notes followed by a long one. Again this serves both cohesion and variety.
The second movement is in an ABA form, the energetic outer sections of which would have to be called a scherzo. Alex says, "I link the impetuous energy to Beethoven's 5th: life goes by so fast; maybe Poulenc is angry about this. The B section is like what would happen if there were no death: peaceful, loving…"
The third movement is marked "Very Calm," similarly to the first movement ("Peacefully"). It opens with a network of slow, resonating melodies in natural minor, evoking plainchant in an echoey space, like monks passing each other in the mist. The main oboe melody, also reminiscent of plainchant, is presented while the piano strikes huge sustained chords, as if tolling a gigantic bell. Alex links this movement (and indeed the sonata as a whole) with Poulenc's Dialogues of the Carmelites, also composed in the last year of his life.
The oboe builds and leads into a section where the piano makes impassioned statements of the plainchant theme over thick, romantic chords and the oboe replies with its more understated version of the same material. We then get the pastoral secondary theme from the first movement and another statement of the plainchant over bells before the sonata enters its last dissolution. The ostinato from the Stravinsky theme returns, marked triste et monotone (sad and monotone). It seems to be on a minor chord, although only the root and third of the chord remain. There is no bass at all. The "melody" wanders among other pitches until the whole notion of it being a cohesive entity is lost, and it dissolves into individual notes. Just as the piano and oboe converge on adding that last note of the minor chord, the ostinato slows, comes to a halt, and the whole thing fades away.
Camille Saint-Saëns: Sonata for Oboe and Piano, Op. 166 (1921)
Saint-Saëns has a (well-deserved!) reputation as a reactionary composer, but it's possible that in this piece he was trying his hand at infiltrating the avant-garde. Stravinsky's Pulcinella — a "neo-baroque" take on melodies attributed to Pergolesi — had premiered in Paris the previous year, and perhaps Saint-Saëns finally felt he had found a fashionable strain of music that he could adopt for himself.
For this piece itself is (mostly) "neo-baroque," rather than in Saint-Saëns's normal late-19th century style. The first movement has an opening theme in Pergolesi's rococo style, followed by baroque sequences and figure work. True, its second theme is reminiscent of Offenbach, but it duly returns to its older roots.
The middle movement is a Sicilienne, a baroque dance based on a dotted triple rhythm, flanked by two freely metered ("ad libitum") passages that again evoke the pastoral tradition.
The finale, Molto allegro, again evokes the baroque, perhaps partly because there are not that many other idioms in which to do so much passagework and scales within the range of the oboe. But it is something of a strange movement, where the attempt to be neo-baroque starts to fall apart a bit, and Saint-Saëns's late-19th century nature shows through.
Alex says, "The first movement is Andantino. Normally it is played too fast — more like an Allegretto; but the second movement is Allegretto, and people play it too slow. I decided to do these tempos as written, which is noticeably different from how they are usually played. Likewise, playing the last movement actually Molto allegro makes it very virtuosic. When Saint-Saëns writes virtuosically, he seems to be a "no boundaries" composer — he really did go bold on some things! He truly lets it rip here; it's like there's one downbeat every four bars. So I decided to play it really molto. There is a truth there. Because of these tempo decisions, this is probably going to be seen as my most radical performance on this disc."
Leon Shernoff, a graduate of the Eastman School of Music and California Institute of the Arts, is a composer and singer in Chicago. Examples of his work may be heard at www.leonshernoff.com.
Album Details
PRODUCER James Ginsburg
ENGINEER Bill Maylone
EDITING Jeanne Velonis
COVER ART Bark Design
GRAPHIC DESIGN Bark Design
RECORDED May 7, 9, 11, 25, 28, 29, 2018, Fay and Daniel Levin Performance Studio at WFMT Chicago
PUBLISHERS York Bowen: Sonata for Oboe and Pianoforte, Op. 85 © 1944 J&W Chester, Ltd
Petr Eben: Oboe Sonata, Op. 1 © 1950-1952 Panton
Henri Dutilleux: Sonata for Oboe and Piano © 1944-1946 Alphonse Leduc
Eugène Bozza: Sonata for Oboe and Piano © 1971 Alphonse Leduc
Francis Poulenc: Sonata for Oboe and Piano, FP 185 © 1963 J&W Chester, Ltd
Camille Saint-Saëns: Sonata for Oboe and Piano, Op. 166 © 1921-1923 Durand
© 2019 Cedille Records