Store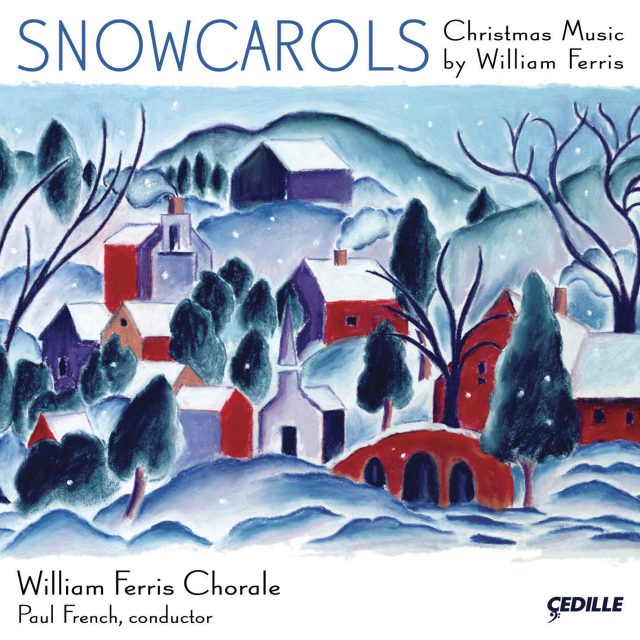 ---
Nominated for the 1980 Pulitzer Prize in Music, William Ferris's Snowcarols receives its world premiere recording. Performed by the William Ferris Chorale, directed by Paul French, Snowcarols is filled with memorable melodies and brilliant orchestrations. Also included are several shorter Christmas-themed works by the acclaimed choral director and composer. This unique program reveals the big-hearted spirit of a giant of American choral music.
Preview Excerpts
Enjoy our recommended preview track excerpts below
WILLIAM FERRIS
Introit for the Christmas Mass at Midnight
3
Lift Up Your Heads, O Mighty Gates
4
Infant Holy, Infant Lowly
8
Come, Lord, and Tarry Not
9
Creator of the Stars of Night
10
I. The snow lies thick upon the earth tonight
11
II. The snow lay on the ground
12
III. In the bleak mid-winter
13
IV. See amid the winter snow
Artists
5: Ricardo Castañeda, oboe
8: Melissa Dagley, soprano
Ricardo Castañeda, oboe
14: Emily Lee, soprano
Nancy Bieschke, soprano
Cecelia Hall, alto
Garrett Johannsen, tenor
Dan Rose, tenor
Jerry Privasky, baritone
Daniel Peretto, bass
What the Critics Are Saying
---
---
William Ferris died in 2000 at the age of 63, leaving both sadness at his early passing and pleasure and thankfulness for a full and distinguished lifetime of work with his choral singers, and as a composer and arranger. It is appropriate that his Chorale should honour his memory at Christmas time with this collection of seasonal songs which takes its title from a sequence of five substantial choral pieces which deserve to he heard in full to appreciate the extent of their skilful invention and warm treatment of texts, ranging from traditional Anglo-Irish to Christina Rosetti's In the bleak mid winter and See amid the winter snow by Edward Caswall. . . . In addition there are eight other Christmas pieces, all shorter than those in the Snowcarols cycle, and all offering something distinctive and attractive — like the long oboe solo that introduces O Mary of Graces. The Introit for the Midnight Mass is heralded by trumpets and there is a simple and poignant setting of the old Polish carol Infant holy, Infant lowly. This is a good tribute to a worthy composer and choral director, and deserves a place in the collections of all choral enthusiasts. But it also provides a wider display of seasonal choral pieces for all choirs that do not already know the composer and his music. One thing is certain: Ferris knew how to make choral music work and be a joy to sing.
William Ferris' Christmas music is directly appealing, well-written and orchestrated, and definitely on the serious, religious side of Christmas music.
The cycle Snowcarols anchors the program, and would be a welcome addition to the Holiday Concert repertoire. It's an introspective piece, on texts from a number of sources, including Christina Rosetti and John Vorrasi (who wrote the informative liner notes for the present disc) on the subject of Christmas time snow. The texts are set clearly, with the words always understandable, and the writing for both chorus and orchestra is warm and inviting, against the chill of the subject and the season.
The other carols on the disc are in a similar vein, expressive, serious, and appealing. The performances are uniformly strong, with the William Ferris Chorale and the Composer Festival Orchestra (led by Paul French and sometimes accompanied by Paul Nicholson on organ) deeply committed to the music and steeped in its style.
Cedille's sumptuous sound is well matched to the music. This is a timely release, and I look forward to listening to it again, along with a cup of holiday cheer.
Snowcarols: Christmas Music by William Ferris
Notes by John Vorrasi
I know snowstorms. In my hometown of Rochester, New York, every winter brought at least two or three of what the local weathermen called 'the Classic Lake-Effect Snowstorm.' As a child I reveled in snow on snow, drifts as tall as hills, traffic at a standstill, and closed schools. The whole world seemed silent under a blanket of white, punctuated only by the drip-drip of slender icicles.
Such poetic memories from childhood hardly prepared me for the Chicago blizzard of 1979. A great city ground to a halt is not so much fun viewed from an adult vantage point. Streets, alleys, sidewalks, and driveways were utterly impassible for more than a week. The simplest of everyday personal tasks became formidable challenges, compounded by mass disruption of everything (public transportation, waste collection, emergency services, burials) well, everything. Chicago's Department of Streets and Sanitation just couldn't keep pace with the relentless accumulation. So much snow had fallen that there was no place to dump it all. As a last resort, the city decided to pack it into empty railroad cars, sending tons of snow south to delight Floridian children. Here in Chicago, however, there was no delight. Angry citizens blamed Mayor Michael Bilandic for the breakdown of public services. Fair or not, they took their revenge, voting him out of office in favor of Chicago's first female mayor, Jane Byrne.
A lifelong Chicagoan, William Ferris knew snowstorms too. In 1979, Ferris was chairman of the theory department at the American Conservatory of Music. The hundred-year-old Conservatory was then still quite strict about the number of class hours required of each student to receive credit for coursework. So braving the snow, the dedicated and tenacious Ferris made the long and slow trek to his studio in the Fine Arts Building on Michigan Avenue. Of course, not one student showed up. So to pass the time, he began paging through an old hymnal. Coming upon Gustav Holst's setting of Christina Rossetti's "In the bleak midwinter," he decided to use his newly found "free time" productively by making his own setting of the text. And from this came the genesis of Snowcarols.
The William Ferris Chorale traditionally began its subscription series with a Christmas concert. After the first few seasons, Ferris tired of programs filled with twenty or so short works, beautiful though they might be, and wanted to build his program around a more substantial central offering. Much of the music that appealed to him called for large orchestras and choruses, well beyond the ensemble's early budgets. So he decided to tailor-make cantatas for the Chorale to sing. Three major works for which I had the privilege of providing texts were the result of this practical impulse: Make We Joy (1976), A Song of Light (1977), and Snowcarols (1979&1980).
Snowcarols was constructed from the inside outwards, beginning with the unaccompanied carol, written during the winter of 1979, then moving forward and backward throughout the spring of 1980, with orchestrations completed in early fall.
The meaning of the word "carol" is stretched significantly in these quasi-symphonic movements much as "motet" is expanded by Bach's essays in that form. Ferris's meditation on snow is singable, listenable, and memorable. A sense of narrative, declamation, and unselfconscious tunefulness creates a world full of variety. Like all of the great carols, he makes an important musical statement in the gentlest and most beguiling of ways.
The orchestration of Snowcarols, particularly the last movement, shows Ferris at his most inventive and coloristic. With a liberal use of mallet instruments, kettle drum glissandi, frolicking woodwinds, and tremulando gongs and cymbals, the listener (and performers) come to feel almost actually caught up in a snowstorm.
Stylistically, Ferris's music is informed by the Gregorian chant and polyphony he sang as a boy chorister, by the formal structures he absorbed as an organist and in his studies with Leo Sowerby, and by his love for the emotional directness of Italian opera. The basis of his music is a lyrical gift for long-lined melody. Even his instrumental works sing with a vocal character.
Conductor Christopher Keene described the Ferris harmonic language as polymodal chromaticism. His harmonies are formed by the confluence of modal lines merging to a pivotal tonal center from which a truly individual style emerges. Rhythmic structure, too, is driven by the melodic or textual material rather than by any desire to employ metric complexities for their own sake.
Chicago Sun Times critic Robert Marsh described him this way: "Ferris is a conservative composer in the best sense of the word. His music makes its points easily and well, but he is innovative, imaginative and unafraid to write something that makes an immediate appeal through its pure beauty of sound."
The dedications of the five movements of Snowcarols offer an interesting insight into Ferris's thinking:
to President Jimmy Carter (Ferris, a life-long Democrat, was a staunch supporter of the beleaguered Carter);
to Dr. Joan Ferris (his sister, in gratitude for her support and encouragement);
to Dr. Eric Fenby (the amanuensis of Frederick Delius, one of Ferris's most beloved composers, who was also a guest and friend of the Chorale);
to my mother on her 80th birthday (Ferris sketched most of this rather melancholy movement sitting at her side in a hospital); and
to Michel Sullivan (a boyhood friend and fellow composer).
Snowcarols was nominated for the 1980 Pulitzer Prize in music.
Ferris was fond of saying that his first aesthetic experience came as a boy soprano in the Cardinal's Cathedral Choristers of Holy Name Cathedral. The inherent drama of the Catholic liturgies moved him greatly but never more so than at Christmas. It was, above all others, his favorite holy day, so it comes as no surprise that he composed a great deal of music for the feast.
To view these deceptively simple pieces (composed between 1966 and 1998) as merely gebrauchsmusik (music for use) does them a disservice, for Ferris crafted each one with the same stylistic integrity he crafted his concert works, the only difference being that these were meant for liturgical use.
Whether his Christmas music waxed melancholy, bittersweet, or triumphant, each work reveals the spirit of a skilled composer who was at his core a man of deep childlike faith.
Album Details
Total Time: 70:25
Producer: James Ginsburg
Engineer: Bill Maylone
Graphic Design: Melanie Germond
Cover Photo: Winter Landscape © Images.com/Corbis
Recorded: November 28 & 30, and December 1, 2006 (Snowcarols), and January 11-12, 2007 in Our Lady of Mount Carmel Church, Chicago
Publishers:
GIA Publications: Track 1 © 1968
World Library Publications, Franklin Park, IL: Tracks 2 © 1974; 3 © 1995; 5 © 1998, 2000; 6 © 2002, 8&9 © 1995 www.wlpmusic.com. All rights reserved. Used by permission
Oxford University Press: Tracks 4 © 1987; 12 © 1979
Joan Ferris: Tracks 7 © 1993; 10, 11, 13, 14 © 1980
Funded in part through grants from The Aaron Copland Fund for Music, Inc. and the Paluch Family Foundation
© 2007 Cedille Records/Cedille Chicago