---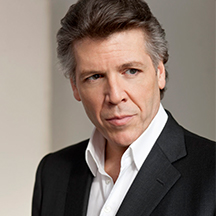 Artists
Thomas Hampson
Baritone
Superstar baritone Thomas Hampson has appeared world-wide in major opera houses and concert halls and made over 170 recordings. Through his Hampsong Foundation, he promotes intercultural dialogue and understanding through the art of classic song.
---
Thomas Hampson, America's foremost baritone, has received many honors and awards for his captivating artistry and cultural leadership. Honored as a Metropolitan Opera Guild "Met Mastersinger" and inducted into both the American Academy of Arts and Sciences and Gramophone's "Hall of Fame," Hampson is one of the most respected and innovative musicians of our time.
With an opera repertoire of over 80 roles sung in all the major opera houses of the world, his discography comprises more than 170 albums, which include multiple nominations and winners of Grammy Awards, the Edison Award, and the Grand Prix du Disque. He received the 2009 Distinguished Artistic Leadership Award from the Atlantic Council in Washington, DC and was appointed the New York Philharmonic's first Artist-in-Residence.
In 2010, he was honored with a Living Legend Award by the Library of Congress, where he has served as Special Advisor to the Study and Performance of Music in America. He has also received the famed Concertgebouw Prize. Hampson was named honorary professor at the Faculty of Philosophy of the University of Heidelberg and holds honorary doctorates from the Manhattan School of Music, New England Conservatory, Whitworth College, and San Francisco Conservatory, and is an honorary member of London's Royal Academy of Music. He carries the titles of Kammersänger of the Vienna State Opera and Commandeur dans l'Ordre des Arts et des Lettres of the Republic of France, and was awarded the Austrian Medal of Honour in Arts and Sciences. In 2017, Hampson received the Hugo-Wolf-Medal from the International Hugo-Wolf-Academy together with his long-time musical companion, pianist Wolfram Rieger for their outstanding achievements in the art of song interpretation.
Thomas Hampson enjoys a singular international career as an opera singer, recording artist and "ambassador of song," maintaining an active interest in research, education, musical outreach, and technology. Through the Hampsong Foundation, which he founded in 2003, he employs the art of song to promote intercultural dialogue and understanding.