---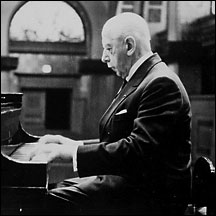 Artists
Rudolph Ganz
Composer
Rudolph Ganz (1877-1972) was a Swiss-born American pianist, conductor, composer, and music educator. He served as President of the Chicago Musical College from 1934 to 1954.
---
Rudolph Ganz (February 24, 1877 – August 2, 1972) was born in Zurich, Switzerland. He received his initial musical training at the Zurich Conservatory, and in 1899 traveled to Berlin to study piano with Ferruccio Busoni and composition with Heinrich Urban. Although Ganz had made public appearances as pianist and cellist as a child, his debut as a mature artist took place at a concert of the Berlin Philharmonic Orchestra in December 1899, when he performed the Beethoven Emperor Concerto and Chopin E minor concerto. The following year he conducted the Berliners in his own first Symphony.
In 1900, Ganz came to America, and from 1901 to 1905 taught piano at the Chicago Musical College, where he would return as director from 1929 to 1954. After 1905, he made concert tours in Europe and the United States. In 1921 he became music director of the St. Louis Symphony Orchestra, where he remained until 1927, having led its first recordings for the Victor label.
From 1938 to 1949 Ganz conducted the New York Philharmonic's Young People's Concerts and led the orchestra at Lewsohn Stadium during the summer season. He also presided over the San Francisco Young People's Concerts at this time and guest -conducted the symphony orchestras of Chicago (where he also frequently appeared as piano soloist), Los Angeles, and Denver.
Throughout this remarkably diverse and fruitful career, Ganz remained a tireless champion of contemporary music, which in his case meant anything from Saint-Saens, Busoni, or Griffes in the early decades, to Bartok, Webern, and Cage Lateron. Ravel dedicated his most difficult piano piece to Ganz, the "Scarbo" movement form Gaspard de la nuit. Griffes did the same with his most popular work, The White Peacock. Rudolph Ganz's own musical idiom is cosmopolitan, conservative, and uncommonly witty, as was the man himself.