---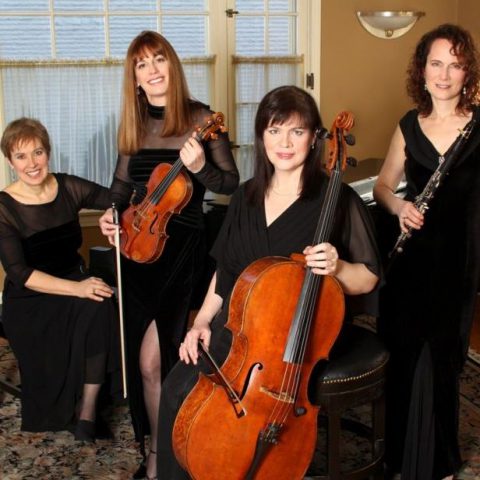 Artists
Orion Ensemble
Recognized as one of Chicago's finest chamber music groups, the Orion Ensembke has been performing since 1992. The Chicago Tribune called Orion "one of Chicago's most vibrant, versatile and distinctive ensembles."
---
Recognized as one of Chicago's finest chamber music groups, the Orion Ensemble is celebrating its thirteenth year. John von Rhein of The Chicago Tribune calls Orion "one of Chicago's most vibrant, versatile and distinctive ensembles." With the possibilities inherent in its unique combination of instruments – piano, string trio, and clarinet – Orion offers exciting interpretations of standard repertoire, introduces audiences to rarely-performed masterpieces, and inspires composers with commissions for new works. Orion's cutting-edge programs feature diverse works by composers ranging from Mozart and Brahms to William Bolcom and Chick Corea to Paul Schoenfield and Augusta Read Thomas.
The Orion Ensemble boasts a roster of five superb musicians who have performed with the Chicago Symphony Orchestra, National Symphony, Moscow Philharmonic, San Francisco Symphony, Chicago Lyric Opera Orchestra, and Chicago's Music of the Baroque orchestra, and at music festivals including Ravinia, Aspen, Mostly Mozart, Hollywood Bowl, Taos Chamber Music, Salzburg, and Banff. In Chicago, Orion presents an annual four-concert series in three venues, is heard regularly on the broadcast series "Live from WFMT" and appears frequently on the Chicago Cultural Center's Lunchbreak Series, "Classical Mondays." Orion also tours, performing on chamber music series across the country.
The Orion Ensemble received a Chamber Music America/ASCAP Award for Adventurous Programming for its critically acclaimed millennium celebration, "An Inside Look at Contemporary Music." The group is currently an Ensemble in Residence at Roosevelt University's Chicago College of Performing Arts and is on the official artist roster for the Illinois Arts Council ARTSTOUR Program.
This is the Orion Ensemble's first recording for Cedille Records. In 2003, the group released its own acclaimed CD, A Celebration of American Chamber Music, featuring works by four outstanding contemporary American composers: Peter Schickele, Augusta Read Thomas, Jackson Berkey, and Robert Kritz.
Orion Ensemble:
– Jennifer Marlas, Viola
– Kathryne Pirtle, Clarinet
– Florentina Ramniceanu, Violin
– Diana Schmück, Piano
– Judy Stone, Cello
For more information on the Orion Ensemble, visit their website: orionensemble.org