---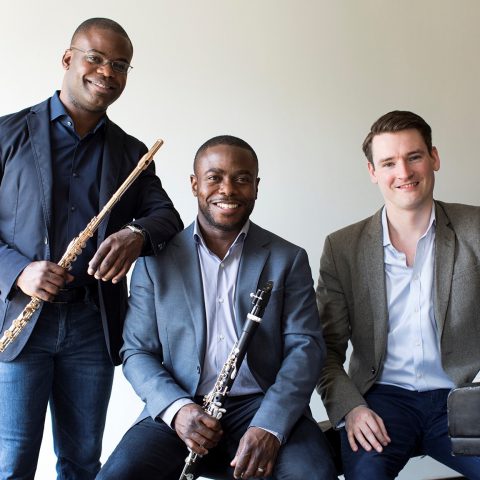 Artists
McGill/McHale Trio
An unusual combination of flute, clarinet, and piano, this trio was initially formed for a festival concert, where brothers Anthony and Demarre McGill immediately bonded with Michael McHale. The players balance and blend their timbres with nuanced phrasing to create a dazzling listening experience.
---
The McGill/McHale Trio was founded in September 2014 when clarinetist Anthony McGill and his brother, flutist Demarre McGill, were featured artists in a residency at Bowling Green University in Ohio. While there, pianist Michael McHale joined them in concert for the first time, and it was immediately clear that the Trio would have a great future making music together.
Considered one of the classical music world's finest solo, chamber, and orchestra musicians, Anthony McGill was named Principal Clarinet of the New York Philharmonic in September 2014, having previously been Principal Clarinet of the Metropolitan Opera Orchestra and Associate Principal with the Cincinnati Symphony. A graduate of Curtis, the Chicago native gained international recognition in January of 2009 when he performed with Itzhak Perlman, Yo-Yo Ma, and Gabriela Montero at the inauguration of President Barack Obama. He has received an Avery Fisher Career Grant, the Sphinx Medal of Excellence, and the John Jay Justice Award and serves on the faculties of Curtis, Juilliard, Peabody, Manhattan School of Music, and BARD.
Demarre McGill has served as principal flute of the Seattle, Dallas, and San Diego symphony orchestras, as well as acting principal of the Metropolitan Opera Orchestra. A graduate of Curtis and Juilliard, he is a winner of the prestigious Avery Fisher Career Grant. In addition to numerous education activities, he is co-founder and Artistic Director of the Art of Elan and a founding member of the Myriad Trio. The many chamber music festivals in which he has participated include Marlboro, Santa Fe, Seattle, and South Africa's Stellenbosch Chamber Music Festival.
Pianist Michael McHale was born in Belfast, Northern Ireland, and now resides in London, England. Following studies at the University of Cambridge and Royal Academy of Music, Michael has gone on to become one of Ireland's leading concert pianists. He has performed with many major ensembles including the Minnesota and Hallé Orchestras; the City of London Sinfonia; and the Moscow, Bournemouth, and Jacksonville Symphonies. In addition to solo recitals and festival appearances, he collaborates with Sir James Galway, Michael Collins, Barry Douglas, Dame Felicity Lott, and Camerata Pacifica, among others.