Store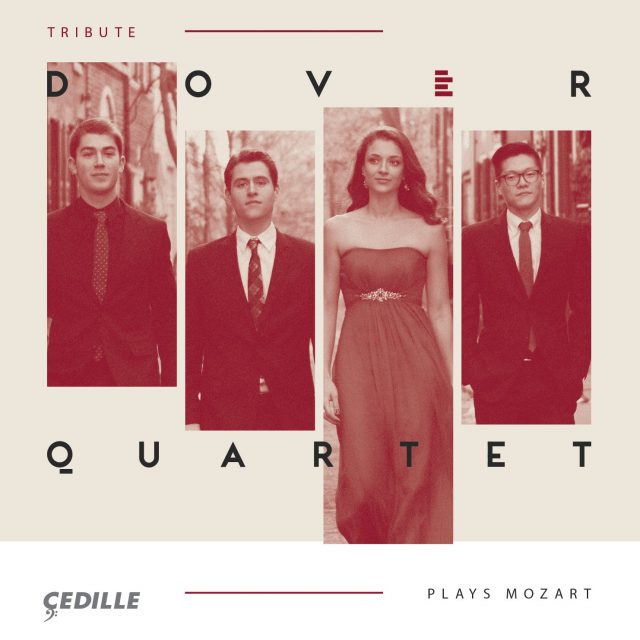 Store
Tribute: Dover Quartet Plays Mozart
---
The Dover Quartet, "the young American string quartet of the moment" (The New Yorker), makes its recording debut with an all-Mozart album on Cedille Records honoring the soaring young ensemble's illustrious teachers and coaches,the Guarneri Quartet.
The Dover's debut album recalls the Guarneri's own all-Mozart debut album on RCA Red Seal 50 years ago (1966),which featured Mozart's final two string quartets — in B-Flat, K. 589, and F, K. 590. The Dover's album on Cedille adds Mozart's Quintet in C Minor, K. 406, performed with none other than Michael Tree, the Guarneri's founding violist and one of the Dover's most valued mentors.
The Chicago Tribune proclaimed, "The Dover Quartet players have it in them to become the next Guarneri String Quartet — they're that good." The Tribune cited the group's "expert musicianship, razor-sharp ensemble, deep musicalfeeling and a palpable commitment to communication." The Washington Post urged chamber-music lovers to "put theDover Quartet on their to-hear list." The New York Times described the quartet's playing as "sublime."
Formed in 2008 at Philadelphia's Curtis Institute of Music and recently appointed as faculty quartet in residence at Northwestern University's Bienen School of Music, the Dover Quartet has won multiple awards, including the GrandPrize and all three Special Prizes at the 2013 Banff International String Quartet Competition and the Cleveland Quartet Award in 2015.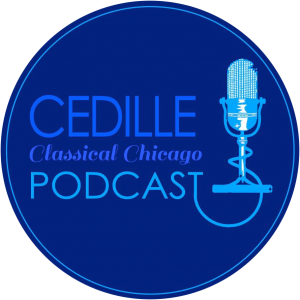 Listen to Steve Robinson's interview
with the Dover Quartet on Cedille's
Classical Chicago Podcast
Preview Excerpts
Enjoy our recommended preview track excerpts below
WOLFGANG AMADEUS MOZART (1759—1791)
Quartet in B-flat Major, K. 589
Quartet in F Major, K. 590
7
III. Menuetto: Allegretto
String Quintet in C Minor, K. 406
Artists
9: Michael Tree, viola
What the Critics Are Saying
---
---
Tribute
Notes by Camden Shaw
Forward
For our debut album, we had always planned to pay tribute to the Guarneri Quartet — so we were particularly excited to learn that our debut would come exactly 50 years after the legendary ensemble's first album. All four of us grew up listening to, and falling in love with the Guarneri's recordings; there is a grittiness, an emotional potency, and a constantly shifting balance between individuality and blend that makes their playing transcendent. It's no overstatement to say that even before we met and studied with members of the Guarneri, they had already shaped the way we felt about chamber music: we all entered the Curtis Institute of Music believing that to play in a string quartet was among the noblest and purest musical pursuits.
Our relationship with the Guarneri Quartet deepened once we began our studies at Curtis. Michael Tree was Milena's private teacher for five years, and I studied for five years with Peter Wiley, a former student of David Soyer who later succeeded him as the Guarneri's cellist. Once our own quartet was born, we frequently took coaching sessions with Peter, Michael, and Arnold Steinhardt, who also teaches at Curtis. Needless to say, it was a privilege to see the names on our favorite recordings slowly transform into our mentors and friends. We didn't meet John Dalley until fairly recently — he is notoriously difficult to track down — but Milena now owns a beautiful bow he made, and his legendary sound has, for us, largely defined the role of the second violin in quartet playing.
The Guarneri Quartet's first album, released in 1966 on the RCA Red Seal label, pairs Mozart's last two quartets, K. 589 and K. 590. Both are famously beautiful and notoriously difficult pieces, and to debut a discography with them was a bold move. The recording met with much critical acclaim, and is jaw-droppingly gorgeous. Fifty years later, our decision to record these same two quartets — along with the C-minor viola quintet, on which we are joined by none other than Michael Tree himself — seemed the best way to acknowledge just how much we admire the Guarneri Quartet, and how sincerely we hope to carry on its legacy.
After David Soyer'sdeath in 2010, Curtis held a memorial service. Peter Wiley and all the current cello students, myself among them, played Klengel's Hymnus for twelve cellos, and many wonderful things were said about David, his teaching, and his influence in the world of music. But to end the service — and this is a moment we will never forget — the whole congregation sat in silence, transported, as we listened to David's heart-wrenchingly beautiful playing in the slow movement of Mozart's Quartet K. 589, from the 1966 recording. The power of that moment was indescribable, and I know it was on my mind as we recorded the same movement on a cold, clear December day in 2015.
Acknowledgements
We would also like to acknowledge the many musicians who had a profound influence on us who were not members of the Guarneri Quartet. Shmuel Ashkenasi, first violinist of the Vermeer Quartet, was the coach who first encouraged us to pursue a professional quartet career, and his system of musical principles still guides our interpretations to an immense degree. We also coached extensively with Pamela Frank — one of the most inspiring, passionate musicians we know — and with the recently departed Joseph Silverstein, whose recordings have become a part of almost every long drive we take together. (Ms. Frank taught both Joel and Bryan privately at Curtis, where Joel also studied with Silverstein.) After graduating from Curtis, we studied for two years at Rice University's Shepherd School of Music, where we coached with Norman Fischer, James Dunham, and Ken Goldsmith. All three were integral to our musical development, and they guided us through our most uncertain years.
We also want to thank Roberto Díaz, president of the Curtis Institute and another of Milena's teachers, for his early and steadfast support of the quartet, and for all the guidance and friendship he continues to provide.
Thank you to all of these amazing musicians!
Preface
In the following paragraphs we include some thoughts about each work. I would like to preface them by noting that we are neither historians nor music theorists. Entire books could be written about the intricacies of these pieces and the events in Mozart's life surrounding their composition; of course, we cannot go into that level of detail here. We're also not fans of trying to describe in words the way the music sounds — that's what the recording is for! What we have included is information, some historical and some analytical, that had a direct and significant impact on our interpretations. We hope this will give our listeners a window into our discussions and a sense of what was on our minds as we played.
Mozart's Prussian Quartets (1789–1790)
Mozart's string quartets K. 589 and K. 590 are known, along with K. 575, as the "Prussian" quartets, after Friedrich Wilhelm II, then King of Prussia, who commissioned them. Mozart would most likely have objected to this nickname, however, for he was never paid for completing them, and instead was forced to have them engraved at his own expense, selling them for what he termed, in a frustrated letter, "a ridiculous sum of money." In fact, the incomplete transaction with King Friedrich contributed substantially to Mozart's dire financial circumstances in the last few years of his life, which presumably complicated his relationship with the pieces.
In spite of the failed business relationship between Mozart and King Friedrich, the quartets having been written with the King in mind was integral to their design: because Friedrich was reputedly a fine amateur cellist, they feature the cello in a soloistic fashion not found in Mozart's previous quartets. In fact, these pieces feature the cello more prominently than anything else Mozart wrote, and he admitted to finding their composition "laborious" — he was not familiar with writing for the instrument in this capacity, and in some ways this becomes clear to cellists who perform the works. The cello parts in the Prussian Quartets are more than just difficult; they are often unidiomatic for the instrument, in a way that the much flashier cello concertos of Haydn, for instance, are not. However, I interpret this not as a failure to understand the cello on Mozart's part, but instead as a manifestation of this fact: Mozart's writing is so pure, so perfect, and so uncompromising in its conception, that it makes one aware of the limitations of physical instruments in realizing his vision.
A few more things should be said about these quartets. First, they are the only quartets of Mozart's that were commissioned. Second, they should be thought of as "late" works in his repertoire — not only because they were written very near the end of his life, but because of their exceptional complexity and originality. Third, their significance was estimated very presciently by Haydn in this famous quote:
"If Mozart had written nothing but his violin quartets and the Requiem, they alone would have been sufficient to make him immortal."
String Quartet No. 22 in B-flat, K. 589
The first point of interest in this quartet is subtle, but significant: the piece opens with a falling, decorated triad. Oddly enough, this is very uncommon for Mozart. Take the other two pieces on this album, for instance; they both open with ascending triads. Most of Mozart's works begin with a rising figure, but the falling, gentle line in this first bar shows us that the mood is wistful and elegant. This more introspective character is confirmed by his choice to re-state the second theme very near the end of the movement, where in conventional sonata form it would not appear — this gives the listener a sense of nostalgia, even amidst the jollity of the final bars.
The opening of the second movement is marked sotto voce, meaning "like a whisper." Mozart rarely gave such instructions, so this shows he was particularly concerned with capturing the right tonal color here. Also, it indicates that despite the soaring, vocal cello line, the sound must be intimate and tender rather than extroverted: an atmosphere he captured further by having only the three lower voices play. There is also a pattern in this movement of trying to reach for something and then returning to rest: this is seen in the second theme, in both the first violin and cello parts, and in the cadenza-like transition of the cello in the middle of the movement. This pattern fills the movement with a sense of awe, as if we are trying to comprehend something very beautiful, but must accept that we will never be able to understand it fully.
The minuet and trio movement is a perfect example of Mozart's mastery of elegance, coupled with his sense of humor. The minuet is refined and poised, conjuring images of some kind of formal gathering, while the trio, with its bubbling laughter and secretive exchanges, reminds us that he probably would have escaped at some point in the evening to tell jokes at a table in the back.
The rondo form is one of Mozart's favorite ways to end a piece, and there's a festive nature to this one that is refreshing after the introspection of the first two movements. Drama quickly works its way into the mix, however, as Mozart intersperses fragments of the theme with significant silences to create a level of tension one would never anticipate from the innocence of the opening bars. Nevertheless, he doesn't hold us in darkness for very long, and soon we're back in the familiar arms of the theme. The piece is rounded off perfectly in the sense that at the very end, there is a codetta with just a hint of nostalgia that echoes what we felt at the end of the first movement: the first violin is left playing the theme above a simple accompaniment in a smooth legato, evoking youthful innocence as the piece dances off into the distance.
String Quartet No. 23 in F, K. 590
The first interpretive quandary in this quartet arrives at the very opening, where one must decide whether or not to crescendo into the second bar. In the score there is no crescendo marked, and because the first bar is marked "piano" and the second "forte," many performers simply play suddenly louder in the second bar. We did not record it this way. In Mozart's "verzeichnis" — the catalogue where he kept a record of his thematic material — there is a hairpin marked from the first bar to the second, suggesting a crescendo. Admittedly, in that same catalogue he labeled these themes as being "for His Majesty the King of Prussia," and because we know the commission did not pan out, it would seem that he wrote the themes in the verzeichnis before the quartets were complete. But does that mean Mozart later decided to scrap the hairpin? Although that is possible, what's more likely is that performers of the time would naturally have made some sort of connection between the dynamics: the concept of truly subito (sudden) dynamic changes occurring mid-phrase is a largely Beethovenian innovation. As you'll hear, we compromise in a sense by blooming somewhat in the first bar, and yet still playing more strongly in the second than might be expected: our hope is that this will not sound shocking, but will instead convey a burst of joy. Incidentally, this figure serves both as a pickup bar and as a downbeat bar in the movement, which is a very unusual compositional trick that Mozart revisits later in the piece.
The second movement is a favorite of all of ours, but perhaps means most to Bryan, who considers it his "deathbed piece." This is understandable, not only because of its beauty, but also because of its wisdom. There is a sense of calm perspective, where both the joy and pain of human existence are understood fully, without judgment, and with acceptance.
The Minuet again features the unusual phrase structure seen in the first movement: the opening theme, which is 14 bars in length, is divided into two seven-bar phrases (already unusual!), in which the first phrase uses the first bar as a pickup, and the second uses the same material as a downbeat. This gives the movement an asymmetric feel, as if something is amiss. This feeling is heightened by the shocking mood changes between cute, playful dances and almost brutish, loud sections, some of which include a smear-like descending octave figure in the viola. The trio is also unusually structured, with the first phrase containing two asymmetrical five-bar phrases; nevertheless, it is suave, flirtatious, and elegant. It's as if the minuet and trio are two people with very different personalities who nonetheless share an inner secret of asymmetry.
The last movement of this quartet is nothing short of groundbreaking. It is elegant, carefree, virtuosic, dramatic, and, in a musical sense, at times downright rude! For instance, the development starts by raucously pulling the key up a half-step from C major to D-flat without any connective tissue: the same compositional gesture that shocked Beethoven's private audience when listening to his quartet opus 95. Perhaps they had not heard Mozart's K. 590! Regardless, this is as inventive and forward-thinking as anything Mozart wrote, and it is as much a thrill to play as it is to listen to.
String Quintet No. 2 in C minor, K. 406/516b
This piece has a particularly interesting history, being the transcription of an earlier work, Mozart's Serenade for Wind Octet, K. 388, which is thought to date from 1782. This actually tells us quite a bit about the work: we can hear the timbre Mozart originally had in mind, as well as the large size of the ensemble; and we can reach the simple but important conclusion that Mozart must have liked the piece, or he would not have taken the time to reimagine it.
As a serenade, this piece would have stood out from the crowd. At that time, serenades were almost exclusively written for performance as background music at formal gatherings, and so tended to be light, cheerful, and unobtrusive. The Serenade K. 388 is none of these things. It is powerful, austere, and haunting, and it commands one's full attention with its subtle but breathtaking changes of character. Also, its form is not characteristic of a serenade; instead it is structured like a symphony, and in a sense is probably best understood as a small-scale symphonic work. But as a string quintet, it becomes distilled into a powerful, compact medium, one in which each voice must sometimes fight to be heard.
There are two points in the first movement that are, for an interpreter, very significant. The first is the opening that alternates between rage and soft vulnerability — and not in the style of opera buffa, where the drama has a comedic aspect. Instead, here we feel as though we are in real danger and feel real pain. The second is a compositional technique in the exposition that conveys true heartbreak: The second subject contains a chorus-like moment with a harmonic progression from C to F minor, B-flat, and E-flat, where it finally cadences. By contrast, in the recapitulation, the same theme starts with the C to F minor progression, but then goes from G to C minor instead of from B-flat to E-flat. This conveys even more tragedy than if he had simply transposed the whole theme into a minor key; we know this theme has the potential to end happily, yet it instead becomes permanently changed and can no longer achieve happiness.
The Andante represents a welcome calm after the turbulence of the first movement. It serves a restorative role, giving the listener hope and a moment of reprieve from the pain that comes before. I won't say much more about it, other than that it is undeniably honest and beautiful, and that — as with Schubert — one gets the sense that even when the music smiles, there is a tear in the eye.
The Minuet and Trio return to the drama and violence of the opening movement. With many of the statements iterated in unison, it often gives the impression of an angry mob, with voices clamoring to be heard above the din. Mozart's use of a minuet movement in this way is particularly biting since 18th century minuets were almost always light and elegant. Instead, we get a raucous and dangerous dance. The trio, by comparison, is cool, flowing, and exceptionally well organized — it consists of a canon al rovescio, which means the imitating voices are iterated in mirror image of one another. This unbelievably cordial discourse (from which the second viola is excluded) makes the return to the Minuet sound even more shocking than it did before.
The last movement comprises a theme and variations that cover tremendous emotional ground. Much like the first movement, there are contrasts between outwardly volatile sections and more introspective ones, but in this case, many of the quieter moments feel sinister and mysterious rather than damaged. Mozart is particularly adventurous in the third variation, which is entirely syncopated and features an almost sickly, insidious passage between the second violin and second viola. The atmosphere is so consistently dark that when the viola duet (originally written for horns) arrives in E-flat major, it functions as a much-needed breath of fresh air. The devious forces return, however, and we truly doubt our chances of making it to a happy ending. Thankfully, the last variation bursts out in music as joyful as anything one could imagine! Even at the close of such an uncharacteristically stormy work, Mozart still ends with joy — but the piece remains an edge-of-your-seat experience.
Album Details
TT: 73:10
Producer: Judith Sherman
Editing: Bill Maylone
Recorded: December 8—10, 2015; Miriam & Robert Gould Rehearsal Hall, Curtis Institute of Music
Graphic Design: Twin Collective
Photography: Lisa-Marie Mazzucco
© 2016 Cedille Records