Store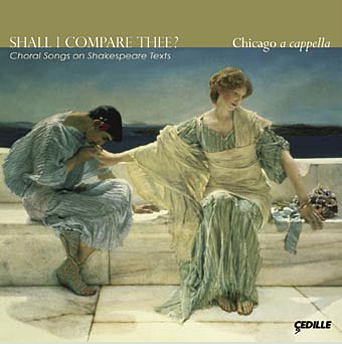 Store
Shall I Compare Thee?
---
On its new CD, the "world class" (Fanfare) nine-voice ensemble Chicago a cappella brings its trademark "wit, imagination, [and] flawless intonation" (Chicago Tribune) to 23 contemporary choral settings of Shakespeare texts – including ten recorded premieres and three works composed expressly for the group.
Making its Cedille Records debut, Chicago a cappella performs artful arrangements that draw from influences ranging from bossa nova and the blues to Renaissance and medieval modes. You'll hear a fascinating spectrum of styles within single works and across the entire program. This is one CD where (in the words of the Bard) "music and sweet poetry agree."
Preview Excerpts
Enjoy our recommended preview track excerpts below
KEVIN OLSON (b. 1970)
MARTHA SULLIVAN (b. 1964)
2
Blow, blow, thou winter wind
JAAKKO MÄNTYJÄRVI (b. 1963)
5
Double, Double, Toil and Trouble
MATTHEW HARRIS (b. 1956)
from Shakespeare Songs
7
It Was a Lover and his Lass
8
Take, O Take Those Lips Away
10
And Will A'Not Come Again?
JOHN RUTTER (b. 1945)
11
It Was a Lover and his Lass
NILS LINDBERG (b. 1933)
HÅKAN PARKMAN (1955–1988)
from Three Shakespeare Songs
GYÖRGY ORBÁN (b. 1947)
JUHANI KOMULAINEN (b. 1953)
Four Ballads of Shakespeare
ROBERT APPLEBAUM (b. 1941)
23
Sonnet 18: Shall I compare thee to a summers day?
What the Critics Are Saying
---
---
" . . . more fun than human beings should be allowed, the most addictive CD to come my way in a long time is Shall I Compare Thee? Choral Songs on Shakespeare on the Cedille label. Some of the pieces are familiar from previous Shakespeare compilations–Jaako Mantyjarvi's Four Shakespeare Songs, with its magnificent "Come away, come away, death;" a selection of Matthew Harris's Shakespeare's Songs from which you would never in a million years guess that he was a student of Carter and Babbitt; Nils Lindberg's Shall I Compare Thee? But, most of the material is new–to me, at least–and none of it has ever been sung this well on CD. The Chicago a capella is some kind of magic blend of the great old jazz group, the Hi-Los, with a little Double Six of Paris and the Mormon Tabernacle Choir thrown in. I challenge anyone who listens to the first cut–Summer Sonnet by Kevin Olson, a composer and pianist at Elmhurst College near Chicago–to stop humming it for a week."
Shall I compare thee?
Notes by Jonathan Miller
This recording had its genesis in June 2002, when Chicago a cappella held a competition. We put forth an international call for scores for our all-Shakespeare concerts, to be held in early 2003. The intention of the concert was to feature excellent new choral works based on texts by Shakespeare. We added the additional requirement that every piece be new to Chicago audiences — i.e., would be having its Chicago premiere. This condition meant that we would be looking in some unusual nooks and crannies of new music, intentionally taking a pass on many well-known works, such as Frank Martin's Songs of Ariel or the Vaughan Williams a cappella cycle.
The songs by Kevin Olson and Martha Sullivan (tracks 1 and 2), as well as Robert Applebaum's "Witches' Blues" (track cm), were composed specifically for our competition. We were honored to receive works of such high quality, so newly created, along with the many dozens of other pieces that were submitted.
We performed a total of twenty-three short works on that program, seven of which were world premieres. Composers came from far and near to attend the performances during that cold February in 2003. Matthew Harris and Martha Sullivan flew in from New York City, while Jaakko Mäntyärvi came from Helsinki. They joined our local composer-stars in post-concert conversations with our audiences.
Many of the texts on this recording have been set to music elsewhere. In some cases, those compositions are now as iconic in the world of choral music as their texts are in the literary canon. Some texts have rarely, or never, been set to music before. Other lines did not necessarily carry deep dramatic weight in the plays themselves where they first appeared. Yet all have taken new wing in musical form, thanks to these composers. As the title of this disc suggests, we can compare these three settings of Sonnet 18 to one another, each of which draws out different qualities of the same poem; so long as men (and women) can breathe and ears can hear, composers will surely continue their creative work on these texts for centuries to come.
We have made a few substitutions from our live concerts for purposes of this recording. The Rutter song, for example, is a perennial favorite, which we performed on our debut concert in 1993. Nevertheless, the intent of this disc remains to showcase the music of composers of our time, who have so deftly and lovingly set to music the immortal words of Shakespeare.
Album Details
Total Time: 63:00
Producer: James Ginsburg
Engineer: Bill Maylone
Session Director: Patrick Sinozich
Recorded: November 13, 2004; and January 14-16 and March 19, 2005 at Northeastern Illinois University
Graphic Design: Melanie Germond & Pete Goldlust
Front cover: Ask me no more, 1906 (oil on canvas) by Sir Lawrence Alma-Tadema © The Bridgeman Art Library
© 2005 Cedille Records/Cedille Chicago