Store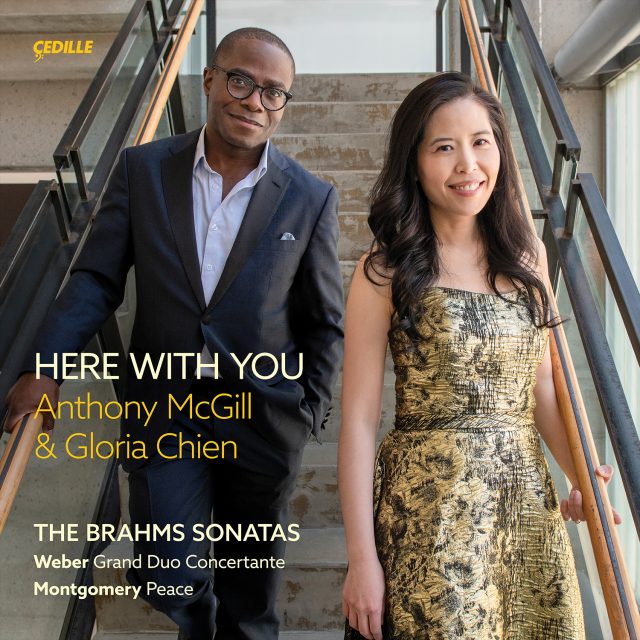 ---
Anthony McGill, principal clarinet of the New York Philharmonic, and pianist Gloria Chien, a frequent performer with the Chamber Music Society of Lincoln Center, make their commercial recording debut as a duo on Here With You, an album (mostly) of early and late German Romantic masterworks they've treasured throughout their 15 years of mutual admiration and musical collaboration. It's a project that embodies, in the artists' words, a "shared expression of beauty and friendship."
Carl Maria von Weber and Johannes Brahms were accomplished pianists who wrote for — and performed with — the leading clarinetists of their day. Weber's Grand Duo Concertant has been described as "a double concerto without orchestra" showcasing sheer virtuosity for both instruments. Brahms' Sonata No. 1, Opus 120, spotlights fast-paced, intense dialogues between the two players, while his Sonata No. 2 explores the clarinet's entire tonal range.
The Chicago Symphony Orchestra's newest Mead Composer-in-Residence, Jessie Montgomery, wrote Peace in 2020 as a response to the global pandemic. McGill and Chien offer the world-premiere recording of the clarinet and piano version.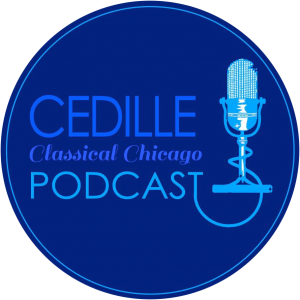 Listen to Jim Ginsburg's interview with
Anthony McGill and Gloria Chien
on Cedille's Classical Chicago Podcast
Preview Excerpts
Enjoy our recommended preview track excerpts below
JOHANNES BRAHMS (1833–1897)
Sonata in F minor, Op. 120, No.1
2
II. Andante un poco adagio
Sonata in E-flat major, Op. 120, No. 2

JESSIE MONTGOMERY (b. 1981)

CARL MARIA VON WEBER
(1786–1826)
Grand Duo Concertant, Op. 48
Artists
What the Critics Are Saying
---
---
Notes on Weber & Brahms
Notes by Andrea Lamoreaux
Carl Maria von Weber was born in 1786 in Eutin, in the northern German state of Schleswig-Holstein. He died from tuberculosis a few months shy of his 40th birthday, yet his music influenced many generations to come, and it lives on today.
Weber's family moved around a great deal — his father went from one theater job to another with considerable frequency. Still, young Carl was able to acquire significant formal musical instruction: two stints with Michael Haydn in Salzburg and a period in Vienna under the noted teacher known as the Abbe Vogler. Weber was already composing during his teen years but his career did not truly take off until 1811, when he toured as a pianist in partnership with a famous clarinetist, Heinrich Baermann (1784–1847). As with Mozart, one of whose best friends was clarinetist Anton Stadler, and Brahms (see below about Richard Muehlfeld), Weber was inspired by Baermann's artistry on the clarinet. Some of his most enduring compositions feature that instrument, newly popular in concert music since about the middle of the 18th century. In 1811, Baermann was principal clarinet of the Munich Court Orchestra.
In 1813, Weber took over as head of the Prague Opera, and in 1817 became director of the even more prestigious Dresden Opera. Also in 1817, he married a singer, Caroline Brandt. It was in 1821, in Berlin, that he unveiled his opera Der Freischuetz, one of the early landmarks of German Romantic opera and a powerful influence on composers as varied as Hector Berlioz, Giacomo Meyerbeer (a friend from Weber's Viennese student days) and, most notably, Richard Wagner. Indeed, Berlioz and Wagner frequently noted their indebtedness to Weber in terms of operatic composition and orchestration.
Weber was probably the first orchestral conductor as we understand that term today: not leading from a harpsichord or the first violinist's chair, but actually standing up in front of the orchestra and shaping the performance. His canon of works includes concertos, keyboard music, including the famous Invitation to the Dance, and sacred music. But it's with operas that he made his mark: Silvana, Abu Hassan, Der Freischuetz, Die drei Pintos (completed by Mahler), Euryanthe, and Oberon. In the latter, and in his incidental music for Carlo Gozzi's play Turandot, he introduced non-European melodies to emphasize the tales' exoticisms. Oberon was premiered in London in 1826; not long after, Weber died.
Weber's works for Baermann include two full-length concertos, a concertino, a quintet with strings, and the Grand Duo Concertant recorded here, written in 1815–1816. British music critic John Warrack (b. 1928) has described it as "a double concerto without orchestra." It's not quite a sonata for clarinet and piano, as the term "sonata" implies a depth of formal organization and development that, while not lacking here, is not emphasized as much as sheer virtuosic display for both instruments.
The Harvard Dictionary of Music defines "concertant" as follows: "Beginning in the 18th century, an adjective applied to works for two or more performers… in which one or more of the performers is called upon for soloistic display." Mozart used the term in his Sinfonia Concertante for violin, viola, and orchestra. It essentially means a piece where the main interest is in the skill and expressiveness of the artists.
The Duo is a merry piece in its outer movements but, in true Romantic fashion, it contrasts these with a middle movement of a completely different nature: plaintive and even melancholy. Throughout the piece, we can hear very clearly that Baermann and Weber were both virtuosos on their instruments. Curiously, perhaps, Weber wrote it "backwards": the finale first, then the middle movement, and then the first movement.
To begin, the Allegro con fuoco — fast and fiery — in sonata form features a main theme with lively exchanges between the soloists, followed by a second theme, introduced by the clarinet, that's more serene, yet also dance-like. There's the expected development, recapitulation of the main themes, and coda, but throughout, the listener is caught up in the constant dialogue between wind instrument and keyboard, until the movement ends with a final flourish. The Andante — moderately slow — is in C minor, the relative minor of the work's home key of E-flat major. To open it, the clarinet plays a lyrical, contemplative melody. This is followed by a major section for the piano alone, but they soon reunite and become a duo again to complete this wistful interlude. The finale, back in E-flat major, is marked Allegro again. It's a rondo: one dominant theme reiterated several times and interspersed with sections of contrasting mood. The clarinet plays the theme first, then the two progress, sometimes together, sometimes apart, in music that's ever more virtuosic and brilliant.
In 1890, Johannes Brahms, then the most famous and admired of all European composers, told his publisher he was retiring. No more compositions. (He supposedly said, "It's time for the younger folks to take over.") The "retirement" didn't last long. In 1891, Brahms visited the German city of Meiningen, where the orchestra had long been associated with his music, 6 and heard its principal clarinetist, Richard Muehlfeld (1856–1907). Fired up by his artistry, Brahms brought forth and dedicated to him a quintet with strings, a trio with cello and piano, and two sonatas with piano. These latter were completed in 1894, published as Op. 120, and received their public premieres from the composer and dedicatee in Vienna in 1895. The sonatas also exist as works for viola and piano, showing Brahms' fondness for mellow-toned, mid-range instruments — so thanks to Muehlfeld, the composer enriched both wind and string repertories.
There are four movements to the Sonata No. 1 in F minor. The first, Allegro appassionato — fast and passionate — opens with a piano motive in octaves that will recur throughout the movement. The smooth, lyrical first theme is introduced on clarinet; then there's a transition to theme two, somewhat more abrupt in sound, going through several key changes to land on C minor. The development concentrates on material heard in the introduction. The recapitulation and coda stay in the home tonality.
The second movement is labeled Andante un poco adagio — moderately slow, trending toward very slow. It's in A-flat major (mostly). There's a simple tune for the main theme, a more agitated "B" section with 16th-note passages for the piano and almost constant, transitory modulations until the "A" section returns and brings us back to A-flat. For the Allegretto grazioso — moderately fast and graceful — Brahms once again sets up an A-B-A structure, with the piano very much in the foreground throughout, although the clarinet introduces the main theme. The finale, in F major, features a tempo marking Brahms rarely employed: Vivace — very fast indeed (literally "lively"). This rondo movement gives both instrumentalists numerous opportunities to shine during a fastpaced, intense dialogue.
The marking for the first movement of the Sonata No. 2 in E-flat is Allegro amabile — fast, but amiable: an odd tempo indication that nonetheless well characterizes the movement and, indeed, most of the work (although not all of it). The clarinet leads off with a highly lyrical melody, a song without words. Chords and octaves on the piano lead to the second theme, in B-flat, more rhythmic and even abrupt. The development goes through a number of ingenious key changes, and throughout the movement, it's notable how Brahms explores the entire tonal range of the clarinet, from very low to very high.
The three-movement structure means there's no real slow movement in this sonata. The central movement is a scherzo in the doleful key of E-flat minor, and the clarinet's opening theme has been described as a frenzied waltz. The tempo marking is Allegro appassionato, but the "B" section of the scherzo is labeled Sostenuto — sustained. This portion, introduced by the piano, in effect replaces the expected slow movement. Quickly, however, the main portion returns, elaborated. The finale opens Andante con moto — moderately slow, with motion — transitioning to Allegro. This is a theme-with-variations movement, one of Brahms' favorite compositional proceedings. The theme comes in via the clarinet, in lilting 6/8 time with dotted rhythms. With more chords in the piano part, the movement continues through five short variations, the last of which goes back to E-flat minor, before an extended coda brings the sonata to its bright close.
Andrea Lamoreaux served as Music Director of 98.7WFMT, Chicago's classical music station, for 20 years (2001–2021).
PEACE
Note by Jessie Montgomery
Written just a month after the Great Sadness of the first quarantine orders due to COVID-19, facing the shock felt by the whole globe as well as personal crisis, I find myself struggling to define what actually brings me joy. And I'm at a stage of making peace with sadness as it comes and goes like any other emotion. I'm learning to observe sadness for the first time not as a negative emotion, but as a necessary dynamic to the human experience.
— May 12, 2020

Commissioned by Victoria Robey OBE
for violinist Elena Urioste and pianist
Tom Poster, premiered as part of
#UriPosteJukeBox

First performance of the clarinet
and piano version by Anthony McGill
and Gloria Chien
Album Details
Producer and Engineer Alan Bise
Recorded
October 31–November 2, 2020 Mechanics Hall, Worcester, MA
Publishers
Peace © 2020 Jessie Montgomery Music Publishing
Cover Photo Philip Greenberg
Graphic Design Bark Design
Cedille Records © 2021