Store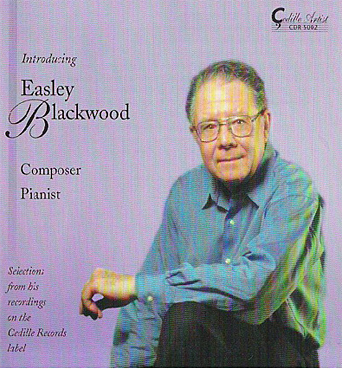 Store
Introducing Easley Blackwood
---
The program includes movements from Blackwood's Clarinet Sonata, Op. 31; Twelve Microtonal Etudes; and String Quartet No. 3; movements from Ives' "Concord" Sonata and Elliott Carter's Cello Sonata; and solo piano works by Blackwood, Nielsen, and Casella.
Special Budget-priced "Cedille Artist" Compilations
The four titles in the series showcase the label's most prolific recording artists (Dmitry Paperno, Easley Blackwood, David Schrader, and Patrice Michaels). If you haven't heard these outstanding artists yet, the new, budget-priced Cedille Artist series makes for an easy introduction to these acclaimed, Chicago-based musicians. These generous compilations – all over 70 minutes long – come with many complete works, not just short excerpts. Each is programmed to demonstrate the musician's full range of artistry over a wide variety of music styles.
Preview Excerpts
Clarinet Sonatas by Blackwood & Reger
CDR 90000 022
with John Bruce Yeh, clarinet
Blackwood: Sonata in A minor, Op. 37
Piano Sonatas by Ives and Copland
CDR 90000 005
Ives: Piano Sonata No. 2 "Concord"
Blackwood & Bridge: Cello Sonatas
CDR 90000 008
with Kim Scholes,cello
Blackwood: Cello Sonata, Op. 31
3
III. Scherzo. Molto allegro
Nielsen: Three Pieces, Op. 59
Radical Piano
CDR 90000 027
Blackwood: Seven Bagatelles, Op. 36
Blackwood Plays Blackwood
CDR 90000 038
Early Chamber Music of Elliott Carter
CDR 90000 048
Carter: Sonata for Cello and Piano
Easley Blackwood: Microtonal
CDR 90000 018
with Jeffrey Kust, guitar
Blackwood: Suite for Guitar in 15-note Equal Tuning
Blackwood: 12 Microtonal Etudes for Electronic Music Media
Piano Music of Casella & Szymanoski
CDR 90000 003
Casella: Nove Pezzi, Op. 24
String Quartets by Easley Blackwood
CDR 90000 050
What the Critics Are Saying
---
---
"Has proved himself again and again a musician of intelligence and taste."
Introducing Easley Blackwood
Notes by Cedille Records
Composer, pianist, and musical theorist, Easley Blackwood's career has been consistent only in its seeming contradictions and strong individuality. Blackwood is Professor Emeritus at the University of Chicago, where he has taught since 1958. He received his musical training from such legendary figures as Olivier Messiaen, Paul Hindemith (at Yale, where Blackwood earned his Bachelor's and Master's degrees in 1953 and 1954), and Nadia Boulanger. Blackwood's return to tonal composition since 1981 stems from his groundbreaking research into the properties of microtonal tunings and his decades long study of traditional harmony.
As a pianist, Blackwood has earned consistent praise for his performances of intricate and demanding contemporary works. Soler's Biographical Dictionary of Musicians "Blackwood is an accomplished pianist, particularly notable for his performances of modern works of transcendental difficulty"; the International Cyclopedia of Music and Musicians calls him a "gifted concert pianist with a special talent for interpreting modern music"; and the Boston Globe declares Blackwood "famous in his ability to play music others dismiss as 'unperformable'." In addition to this solo performances, Blackwood serves as pianist in the Grammy-winning Chicago Pro Musica, a chamber group largely comprised of Chicago Symphony Orchestra members.
Album Details
Total Time: 75:52

Producer: James Ginsburg

Engineer: Bill Maylone

Cover Photo: Nesha & Kumiko Fotodesign

Design: Melanie Germond
© 2000 Cedille Records/Cedille Chicago