Store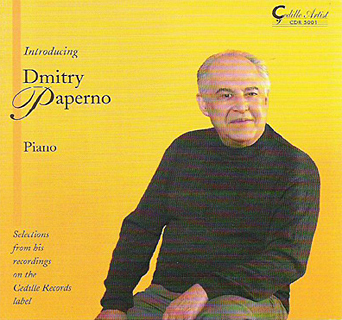 Store
Introducing Dmitry Paperno
---
The program includes Bach/Busoni: Chaconne in D minor; Haydn: Sonata No. 20 in C mi (1st mvt.); Chopin: Fantasy in F minor, Op. 49; Albeniz: Cordoba, Op. 232, No. 4; Scriabin: "Sonata-Fantasy" (1st mvt.); Medtner: Canzona Serenata, Op. 38, No. 6; and seven other works.
NEW – Special Budget-priced "Cedille Artist" Compilations
The four titles in the series showcase the label's most prolific recording artists (Dmitry Paperno, Easley Blackwood, David Schrader, and Patrice Michaels). If you haven't heard these outstanding artists yet, the new, budget-priced Cedille Artist series makes for an easy introduction to these acclaimed, Chicago-based musicians. These generous compilations – all over 70 minutes long – come with many complete works, not just short excerpts. Each is programmed to demonstrate the musician's full range of artistry over a wide variety of music styles.
Preview Excerpts
Dmitry Paperno
CDR 90000 002
1
Bach/Busoni: Chaconne in D minor, BWV 1004
Paperno Live
CDR 90000 044
2
Haydn: Sonata No. 20 in C minor -- I. Moderato
Schubert/Liszt: Two Songs
Paperno Plays Chopin
CDR 90000 026
5
Chopin: Fantasy in F minor, Op. 49
Dmitry Paperno: Uncommon Encores
CDR 90000 007
6
Schumann/Levinson: Der Nussbaum, Op. 25, No. 3
8
Albeniz: Cordoba, Op. 232, No. 4
9
Glinka/Balakirev: The Lark
Dmitry Paperno plays Russian Piano Music
CDR 90000 001
11
Scriabin: Sonata No. 2, Op. 19, "Sonata-Fantasy" -- I. Andante
12
Rachmaninov: Prelude in G-sharp minor, Op. 32, No. 12
13
Medtner: Canzona Serenata, Op. 38, No. 6
What the Critics Are Saying
---
---
Introducing Dmitry Paperno
Notes by Cedille Records
Pianist, teacher, and writer, Dmitry Paperno (b. Kiev, 1929) received his musical training at the Tchaikovsky Moscow State Conservatory, earning a Master's Degree with Honors in 1951 and an Aspirant Diploma in 1955. A prize winner at the Fifth International Chopin Competition in Warsaw in 1955 and the First International Enescu Competition in Bucharest in 1958, Paperno went on to concertize widely throughout Russia and Eastern Europe as well as in England, Cuba, and Belgium (as soloist with the U.S.S.R. State Orchestra at EXPO in Brussels in 1958). He also made numerous recordings for Melodiya, the record label of the Soviet Union. In 1967, Mr. Paperno began teaching at the Gnessin Moscow State Institute. After emigrating to the United States in 1976, Paperno continued to perform extensively throughout the U.S. and Western Europe. A Professor at Chicago's DePaul University since 1977, Paperno has been on the jury panel for many international piano competitions. He has also given master classes in Belgium, Finland, Portugal, and the United States, including classes at Oberlin and the Manhattan School of Music. Mr. Paperno is the author of several articles on music and pianism and the books Notes of a Moscow Pianist (Amadeus Press) and Postscriptum.
Album Details
Total Time: 78:45

Producer: James Ginsburg

Engineer: Bill Maylone

Cover Photo: Nesha & Kumiko Fotodesign

Design: Melanie Germond
© 2000 Cedille Records/Cedille Chicago