Store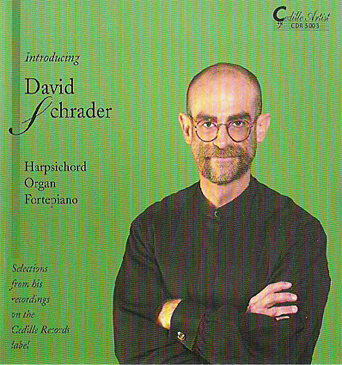 Store
Introducing David Schrader
---
The program includes works for harpsichord by Bach, Lully (arr. d'Anglebert), and Soler; organ pieces by Bach and Franck; two Scarlatti sonatas performed on fortepiano; and chamber works by Soler and Ilja Hurník.
Budget-priced "Cedille Artist" Compilations
The four titles in the series showcase the label's most prolific recording artists (Dmitry Paperno, Easley Blackwood, David Schrader, and Patrice Michaels). If you haven't heard these outstanding artists yet, the new, budget-priced Cedille Artist series makes for an easy introduction to these acclaimed, Chicago-based musicians. These generous compilations – all over 70 minutes long – come with many complete works, not just short excerpts. Each is programmed to demonstrate the musician's full range of artistry over a wide variety of music styles.
Preview Excerpts
The World of Lully
CDR 90000 043
with the Chicago Baroque Ensemble
Lully: Armide, Tragedie lyrique
Bach: Toccata & Fugue in D minor
Bach: Complete Toccatas & Fugues
CDR 90000 006
Scarlatti on Fortepiano
CDR 90000 042
5
Sonata in D minor, K. 434, Andante
6
Sonata in C minor, K. 84, [Allegro]
Organ Masterpieces by Franck and Dupre
CDR 90000 015
7
Franck: Prelude, Fugue & Variation, Op. 18
Bach: Chromatic Fantasy & Fugue, BWV 903
Bach a la Carte
CDR 90000 020
20th Century Baroque
CDR 90000 011
with the Rembrandt Chamber Players
Hurnik: Sonata da camera
Soler: Harpsichord Sonatas, Vol. II
CDR 90000 009
11
Soler: Sonata No. 74 in D major
J.S. Bach: Fantasies & Fugues
CDR 90000 012
12
Bach: Piece d orgue, BWV 572
What the Critics Are Saying
---
---
Introducing David Schrader
Notes by Cedille Records
Born in Chicago in 1952, David Schrader receiver his Performer's Certificate (1975), Masters (1976), and Doctor of Music Degree (1987) from Indiana University and is now a Professor at Roosevelt University's College of the Performing Arts. A familiar figure to audiences in the Windy City, the multifaceted Schrader has been hailed for his performances of baroque and classical repertoire on harpsichord and fortepiano, and music of vastly divergent styles and eras on organ and piano. Mr. Schrader has appeared in recital and performed with major orchestras throughout North America, Europe, and Japan, including appearances as soloists with the Chicago Symphony Orchestra under such celebrated conductors as Daniel Barenboim, Claudio Abbado, Erich Leinsdorf, and Sir Georg Solt, with whom Schrader has made three recordings for London Records. David Schrader is currently organist at Chicago's Church of the Ascension and a member of the Chicago Baroque Ensemble.
Album Details
Total Time: 75:45

Producer: James Ginsburg

Engineer: Bill Maylone

Cover Photo: Nesha & Kumiko Fotodesign

Design: Melanie Germond
© 2000 Cedille Records/Cedille Chicago